Access price pleases Telecom rivals
5:00 AM Wednesday Aug 1, 2007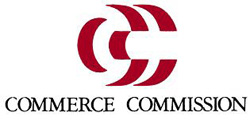 Telecom's internet rivals say they now have incentives to invest in broadband infrastructure after the Commerce Commission issued a lower-than-expected price for them to use Telecom's copper wire network.
In a draft document, the Commerce Commission yesterday put the price of accessing the local loop at $16.49 a customer a month for urban areas and $32.20 for rural areas.
This is what rival telcos will pay to use the Telecom copper network which runs from local telephone exchange to homes and businesses.
In his first ruling, newly appointed Telecommunications Commissioner Ross Patterson surprised observers by setting different prices for rural and urban networks.
This has resulted in lower-than-expected urban prices.
Urban pricing will cover about 70 per cent of New Zealand's population.
Telecommunications analyst Darian Bird of IDC said that although the price was lower than expected, it was not aggressive enough to upset Telecom.
"There are still a lot of details to look at, as there are plenty of hidden costs not covered in the $16.49 a month that Telecom will pass on to access-seekers," he said.
Ihug chief executive Mark Rushworth said the draft price for urban access was "at the right end of the scale" and would help the company decide where it would build networks, instead of continuing to buy wholesale broadband from Telecom.
"The key message the Commerce Commission is sending is that it wants network-based investment to be the driver of competition," he said.
"If they stick around $16.50, there is a business case for urban deployment of network infrastructure."
The draft ruling comes a little over a year after the Government said it would end Telecom's monopoly over its copper wire network, causing the company's share price to plunge. A final decision is expected in December.
Telecom would not comment on the draft determination, saying it was focused on its annual result, due on Friday.
Telecom's share price closed yesterday down 11c at $4.54.
Orcon chief executive Scott Bartlett said the draft price was at the higher end of the company's expectations of between $12 and $17, but he was cautiously optimistic.
"At that price, it certainly enables us to go out and invest heavily in the urban areas for broadband," he said.
He said Orcon planned to invest well over $200 million and had spent $1.5 million on equipment for testing local loop unbundling.
"I can go to our board and our shareholders and say, 'This is an investment that makes sense'.
"That's enough certainty for us to move into the next phase and that obviously means spending more money."
CallPlus' chief executive Martin Wylie said the use of different prices for rural and urban access gave the company an investment case for offering WiMAX wireless broadband to rural customers.
CallPlus has a $3 million WiMAX network operating in Whangarei and plans to develop a nationwide WiMAX phone and internet network.
TelstraClear regulatory and industry adviser Wendy Dodd said the Commerce Commission announcement was largely positive for the company.
It was the first draft decision since the law was changed in December, and TelstraClear saw it as the first step towards being able to introduce in other parts of New Zealand the services the company had on its own network in Wellington and Christchurch.
Telecommunications Users Association head Ernie Newman was surprised but impressed that the commission had chosen a two-tier pricing system.
"I think the way that they have cut the cake up into two will be very positive for early adoption because local loop unbundling was always going to be started in the metropolitan areas anyway and this adds significant incentives to that," he said.
Newman said the issue of improving speeds for hard-to-reach rural users was a political one, and was being developed by the Ministry of Economic Development into the Rural Broadband Strategy.
"Rural people will be no worse off than they are at the moment," he said, "and their lifeline is coming through that Government inquiry."
Town and country
* The Commerce Commission has given draft pricing, terms and conditions for internet providers to use Telecom's copper network.
* The draft price for local loop unbundling is $16.49 a customer a month in urban areas and $32.20 in rural areas.
* The draft charge to switch a customer to the local loop has been set at $83.70.
* Urban areas are: Whangarei, Auckland, Hamilton, Tauranga, Rotorua, Gisborne, Napier-Hastings, New Plymouth, Wanganui, Palmerston North, Kapiti, Wellington, Nelson, Christchurch, Dunedin and Invercargill.
Copyright ©2016, NZME. Publishing Limited