Government defeat on medicines spurs 'lame-duck' jibes
5:00 AM Tuesday Jul 17, 2007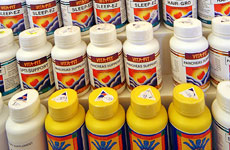 The Government is set to look at using ministerial powers to create domestic regulations for complementary medicines after it conceded defeat yesterday on a transtasman regulatory agency.
Other parties are crowing about the embarrassing failure and describing the minority Government as a "lame duck".
Cabinet minister Annette King has passed responsibility for the issue to Health Minister Pete Hodgson, who said yesterday that "the status quo of an unregulated market for medical devices and complementary medicines cannot remain".
He would not expand on those comments last night but it is understood officials will soon be asked to look at his powers to create regulations to apply to such products sold in New Zealand.
There has been wide acceptance that New Zealand needs greater regulation but sections of the complementary medicines industry teamed up with the Greens and National to campaign against what they saw as a costly bureaucracy and unnecessarily harsh regulation.
Ms King has argued she was proposing a sensible regime which would give consumers protection against potentially dodgy products.
Prime Minister Helen Clark spoke to Australian Prime Minister John Howard on Friday to tell him attempts to achieve a compromise had failed.
The Australians needed to know whether a political deal in New Zealand was possible because they are planning their legislative programme for their final sitting before their general election.
The failure to muster the numbers is not a surprise but it is the biggest legislative failure of the minority Government. The other one involved the microchipping of farm dogs.
Ms King yesterday admitted defeat and delivered a blistering attack on National Party health spokesman Tony Ryall, whom she accused of sabotaging the transtasman proposal.
The relationship between the pair soured to such an extent that Deputy Prime Minister Michael Cullen ended up dealing with National leader John Key on the issue.
Mr Ryall said the failure to get the numbers showed Labour to be a "lame-duck Government. This is the ultimate humiliation for this arrogant Labour Government."
Mr Ryall denied he had sabotaged the proposal.
FIGHT OVER REMEDIES
What has failed?
The proposal to set up a joint agency with Australia to regulate all medicines, medical and surgical devices and complementary or alternative medicines.
What sort of things?
Prescription and over-the-counter medicines, contact lenses, pacemakers, endoscopes, blood products, herbal and traditional medicines, sunscreens, homeopathic remedies, aromatherapy, vitamins, minerals and other dietary supplements.
Who are political winners and losers?
National and the Greens are the winners. Labour and NZ First are the losers.
What happens now?
Domestic producers will be subject to new regulation not there at present but in all likelihood milder than a transtasman regime.
Exporters will still be subject to the Australian regime.
Copyright ©2015, NZME. Publishing Limited