Brown Cabinet fits nicely, but muddling mix of old and new
12:10 PM Friday Jun 29, 2007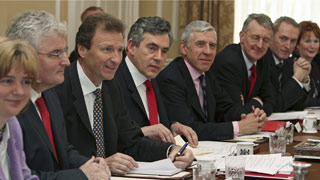 On his first day as British PM, Gordon Brown has assembled an impressive Cabinet. Photo / Reuters
LONDON: In his first full day as Prime Minister, Gordon Brown has appointed a Cabinet that has a good deal of what is both fresh and formidable.
There are several new faces and a few striking promotions. Several of Mr Brown's most trusted allies are in key positions, but some Blairites have flourished too.
As Mr Brown seeks to construct his big tent, a former Conservative MP sits around the cabinet table.
Margaret Beckett leaves the Foreign Office but a woman moves into the Home Office.
In a move that could signal the start of a new approach to the disaster of Iraq, a minister who resigned over the war gets a cabinet job. It's not quite as courageous, or as surprisingly inclusive, as originally billed.
A path of seduction that began with Paddy Ashdown, wound through Lord Stephens and Baroness Williams and finally ended with Shaun Woodward as Northern Ireland Secretary smacks of muddled thinking.
But the two most impressive appointments are close to the very top. David Miliband's promotion to the Foreign Office stands out partly because of his relative youth.
Much more significantly, Mr Miliband is known to have been privately critical of the war against Iraq; he also spoke out at Cabinet meetings over Mr Blair's simplistic support for Israel's attacks on Lebanon last summer.
The Brown-Miliband combination is likely to produce at very least a more subtle approach to foreign policy, more forensic and less evangelical.
Most immediately they must address the catastrophe of Iraq, a need that was reinforced tragically by the deaths of three British soldiers in Basra yesterday.
More surprising than the rise of Mr Miliband was the appointment of Jacqui Smith as Home Secretary. Her promotion is important symbolically.
But, as with the youthful Mr Miliband, the symbolism matters less than the capacity of Ms Smith to deliver in a department that has undergone a controversial restructuring.
In particular she must resist the reactionary populism of her predecessor, John Reid.
She is known as a tough political operator, but is she resilient enough to resist chasing headlines rather than develop thought-through policies?
The splitting of the Department of Education into two and the enhancing of the Department for International Development highlight Mr Brown's personal priorities.
In his few comments during the so-called leadership campaign he spoke often of his commitment to education and global poverty. His closest allies, Ed Balls and Douglas Alexander, fill two of the three relevant posts. John Denham, the minister who resigned over Iraq, is rewarded with the third.
The new Health Secretary, Alan Johnson, is a skilful communicator and well suited to address the current anger within the NHS.
At this very early stage of the new era it is pointless trying to predict which ministers will rise to the new challenges and which will not. But this reshuffle was more clearly thought out and more sensitively managed than some of those carried out by Tony Blair.
Mr Brown plans to preside over a return to Cabinet government, which is also a welcome development. Nor does there seem to have been much advance "spinning" of appointments to favoured newspapers.
None of this means that Mr Brown is guaranteed to lead a harmonious and successful government.
The new Prime Minister may lose his well-intentioned interest in Cabinet government once the novelty of leadership has faded.
Nor can even the most sweeping reshuffle be a substitute for the successful implementation of policies.
For all the talk of the new inclusive Prime Minister, it will be how Mr Brown deals with Iraq, the NHS and other policy areas that will determine his fate.
Even so, the formation of his Cabinet is an encouraging start.
- THE INDEPENDENT
Copyright ©2015, NZME. Publishing Limited