Fonterra declares PR war over dairy
By Malcolm Burgess
5:00 AM Tuesday May 29, 2007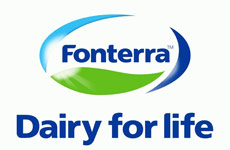 Fonterra has joined forces with some of the world's biggest dairy companies in a public relations exercise to protect their sales by claiming that eating dairy products leads to weight loss.
The campaign comes just weeks after the US dairy industry was forced to back down on such a claim in its advertisements.
The Global Dairy Platform - a worldwide dairy lobby group founded by Fonterra chief executive Andrew Ferrier - is promoting the beneficial effects of eating dairy products as part of a co-ordinated effort to fight what it calls nutritional "myths" spread by special interest groups such as animal welfare groups.
The group is charged with protecting the business interests of member companies such as Fonterra, the world's largest dairy exporter with an annual turnover exceeding $13 billion, by increasing the uptake of dairy in developing nations and defending against encroachment into the dairy sector of non-dairy producers.
Global Dairy executive director Kevin Ballamy said on a visit to New Zealand that one of the top priorities of the lobby organisation was to promote science such as that which showed the high calcium content in dairy products stopped fat absorption in the gut.
"If you drink a lot of milk or eat a lot of dairy products you get a much higher level of calcium and that ties up fat [which] means you excrete more fat. It just stops you absorbing the fat basically."
He pointed to a BBC's television programme - which has screened in New Zealand - which examined Danish research showing a high calcium intake increased the excretion of fat. He said the research might help address the fact that a third of US consumers were obese and two-thirds overweight.
Fonterra, Dairy Farmers of America, Arla Foods and Campina founded the GDP last year, which now counts Nestle, Kraft, Danone, Dairy Lea and Murray Goulburn among its members.
Global Dairy was formed in 2004 after Ferrier, who is chairman and chief executive of the group, suggested its formation. The members have a combined turnover exceeding US$70 billion ($96 billion), with a target of US$100 billion by Christmas.
The Chicago-based Global Dairy is also seeking to propagate messages about the benefits of dairy products on teeth, hypertension, and bone strength.
"We want to get more collaboration among scientists. The key is that we only make credible scientifically proven claims."
Bellamy's claim about the high-calcium diet comes after action by the US Federal Trade Commission which forced the promotional arm of the US dairy industry to curtail a government-sponsored advertising campaign associating dairy products with weight loss, saying the research did not support the claim.
As dairy industries' traditional protections gave way to a "truly global" marketplace, it was important to co-ordinate in the "pre-competitive" space to expand the potential market for dairy and counter messages he said were put by "special interest groups".
The group is also keen to safeguard dairy terms and is conducting a worldwide regulatory review to that end.
"When was the last time you saw a soya bean being milked? How dare these people."
With many of its members competing in a variety of markets, GDP had been careful to avoid any potential competition or anti-trust issues, Ballamy said.
"We're not into trying to rig the market."
He called government action over saturated fats "simplistic".
"Dairy contains trans fats, but most of the transfatty acids dairy contains is vaccenic acid, which when digested is converted into an acid with all sorts of anticarcinogenic properties.
"There's evidence to suggest that fat within the milk matrix is digested in a different way to other forms of saturated fat."
By Malcolm Burgess
Copyright ©2016, NZME. Publishing Limited