SAS soldiers awarded rare presidential honour
5:00 AM Thursday May 24, 2007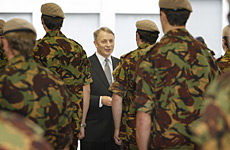 Phil Goff praised the efficiency and courage of the elite group. Photo / Greg Bowker
It was almost as if the elite New Zealand Special Air Service soldier did not want an accolade from United States President George W. Bush.
His Presidential Unit Citation disappeared rapidly into the pocket of his Army camouflage trousers as soon as Defence Minister Phil Goff presented it to him yesterday.
The SAS soldier - who cannot be identified - seemed uncomfortable with his public honour at the rare event in SAS history at the Papakura Military Camp, South Auckland.
The SAS operates out of the public eye, its activities shrouded in secrecy. The soldier was one of nearly 200 fighting men and women from the 1 NZSAS group who received the ribbon of the award bestowed on them by Mr Bush in 2004.
The citation said it was for "extraordinary heroism and outstanding performance of duty in action against the enemy in Afghanistan".
The SAS were deployed into the heart of the war against terrorism a month after the September 11 attack on New York, in 2001.
The ribbon took three years to reach the soldiers at their Papakura base because uniform regulations required a different mounting bar for the New Zealand Army uniform.
The citation was rarely awarded to American military units, let alone units outside the US, said American defence attache to New Zealand, navy captain Rick Martinez.
"This is a very special award. All New Zealanders should be very proud of this SAS group," he said.
The last time a presidential unit citation was awarded to any country other than an American military unit was in 1966.
That also went to a New Zealand Army unit - 161 Battery, Royal New Zealand Artillery - for its work in Vietnam in 1965 and 1966.
Yesterday was different for another reason - journalists were allowed inside the SAS compound, though under severe restrictions.
Photographs could be taken, but not so they showed SAS soldiers' faces. The soldiers could not be named and had earlier been ordered to say nothing to journalists.
The SAS commanding officer told the troops their mission as members of Task Force K-Bar in support of the US war on terrorism was a success.
It was to destroy, degrade and neutralise the Taleban and al Qaeda leadership in Afghanistan.
They did so with one dead (an Australian) and two wounded (both New Zealanders) in a display of tenacity, outstanding courage, tactical brilliance and operational excellence.
The soldiers were presented with their ribbons by Mr Goff, Captain Martinez, Army chief Major General Lou Gardiner, and Navy deputy chief Rear Admiral Jack Steer.
After the presentation Mr Goff told them the SAS "prides itself on its discreet and unassuming nature.
"I know it does not seek or even welcome accolades. However, I believe New Zealanders would want to be aware of and acknowledge your contribution and achievement."
New Zealand should be proud to have "such a body of defence force people that serve so efficiently and so courageously on their behalf", he said.
- NZPA
Copyright ©2015, NZME. Publishing Limited