Drink deficient only in Australasia, says GSK
5:00 AM Saturday Mar 31, 2007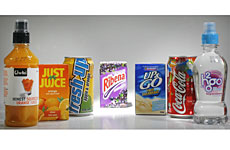 A small selection of drinks that are available from most New Zealand stores. Photo / Greg Bowker
The makers of Ribena have told UK customers the problems with the product in Australia and New Zealand came from leaving the bottles and cartons on shop shelves too long - a claim rubbished by food scientists.
GlaxoSmithKline, which had a worldwide turnover of $61 billion in 2005, was fined $217,000 this week after pleading guilty to 15 breaches of the Fair Trading Act.
Through its lawyer, Adam Ross, the company accepted Commerce Commission allegations that claims ready-to-drink Ribena contained 7mg of vitamin C per 100ml, or 44 per cent of the recommended daily intake, were incorrect.
The commission's testing found that ready-to-drink Ribena contained no detectable vitamin C.
After the court decision, a spokeswoman for GlaxoSmithKline in London told the Daily Telegraph that the problem arose when Ribena in Australia and New Zealand was left on shop shelves for too long, causing the vitamin C to degrade.
There was no such problem with Ribena sold in Britain, she said.
"Our testing equipment in New Zealand and Australia was not sensitive enough to pick up the fact that the vitamin C was degrading," she said.
The company later issued a statement: "GSK has conducted thorough laboratory testing of vitamin C levels in Ribena in all other markets. This testing has confirmed that Ribena drinks in all other markets, including the UK, contain the stated levels of vitamin C, as described on product labels."
Professor John Birkbeck, from Massey University's Institute of Food Nutrition and Human Health, dismissed the spokeswoman's claims.
"If they're properly sealed ... the vitamin C should be fairly stable. I'm not convinced by that argument at all. Anyhow, there's use-by dates on those things. If that is really the reason, and I seriously doubt that it is, then there's something wrong with the use-by date."
As a rule of thumb, nutrient levels in products had to be within 10 per cent of the level on the nutrition content label.
Dr Carolyn Lister, from Crop & Food Research, said the accuracy of the nutrient labels could vary.
"A good company will use a value on the label that is at the end of the shelf life. If you buy a batch that's fresh, you might actually get a level that's a bit higher than stated."
She said vitamin C was one of the more easily destroyed vitamins.

Revealed - how the drinks stack up
The Weekend Herald's comparison of seven drinks likely to be consumed by children has produced some surprising findings.
The ready-to-drink Ribena pack now makes no claims about its vitamin C content but millilitre for millilitre contains about 25 per cent more sugar than Coke.
Dairy-based drink Up & Go has 3.8g of fat per 250ml carton but also has good levels of vitamin C, with calcium and other nutrients.
GlaxoSmithKline New Zealand said it had been reformulating its ready-to-drink Ribena and was setting up more accurate testing after it found its tests were not accurate enough to pick up a breakdown in vitamin C.
Massey University nutritionist Professor John Birkbeck said water was still the best thirst quencher.
"Water first if it's just for thirst. Some milk is important nutritionally, but certainly it shouldn't be the sole beverage. As for juices, they're okay, but if you are using real fruit juice ... it should definitely be diluted with water."
Copyright ©2015, NZME. Publishing Limited