Rogue-gene discovery could end family's tragedy
5:00 AM Tuesday Mar 20, 2007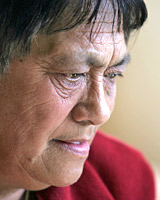 Pauline Harawira helped researchers find a genetic mutation. Photo / Bay Of Plenty Times
For five generations, a hereditary stomach cancer plagued the McLeod whanau in the Bay of Plenty.
"Hundreds died, and they died in their early teens. Mostly before they were 40," said Pauline Harawira, who traced their - and her - whakapapa (genealogy) back to one common ancestor.
Her work helped researchers at Otago University's Cancer Genetics Laboratory identify a genetic mutation which meant carriers had a 70 per cent risk of developing the cancer in their lifetime.
Mrs Harawira does not carry the mutation, but extended family members most predisposed, or who had early signs of cancer, had their stomachs removed to effectively eliminate the risk of the cancer.
But the radical step may not be necessary in future generations, after Otago researchers announced yesterday that they had unravelled the complex mechanisms behind the cancer's earliest stages of development.
The discovery means early treatment is possible without surgery, using drugs that already exist.
The researchers, working in collaboration with colleagues at Auckland University, used molecular genetics techniques to study tissue samples from stomachs removed from whanau members. The samples had been taken out as part of a preventative surveillance programme set up for the whanau.
The technique revealed hundreds of microscopic tumours in the removed stomachs - tumours which were undetectable while they were still in the body.
From there, the team led by Associate Professor Parry Guilford and Dr Bostjan Humar observed how the cancer developed.
"We were able to track its beginnings in a specific part of the stomach, how it then changes to form the tiny tumours and, finally, how it is able to invade other parts of the body," said Dr Humar.
He said these developmental mechanisms were vulnerable to new types of drugs now in clinical safety trials. If given the go-ahead, these drugs could be used to stop or slow the disease.
Dr Humar said ongoing research also indicates that the cancer is slower to develop than previously thought.
Faced with large numbers of their extended family dying from the hereditary diffuse gastric cancer, the McLeods approached the Cancer Genetics Laboratory for help in 1995.
The partnership that stemmed from that led to a surveillance programme, coordinated by Mrs Harawira, to detect cancer in mutation carriers as early as possible.
The programme has found 19 people carrying the mutation to have early stage stomach cancer. They have undergone complete stomach removals and are expected to be cancer-free. Another patient was diagnosed with advanced disease and has died.
Associate Professor Guilford says their findings have been extended to the non-hereditary form of the disease, which is the second most frequent cancer worldwide, with 900,000 new cases each year.
The Cancer Genetics Laboratory is now pursuing research into whether this cancer originates from a "cancer stem cell", which from their findings has been shown to be a strong possibility.
The concept of these stem cells, which account for less than one per cent of a tumour, is expected to revolutionise cancer therapy.
A single cancer stem cell is thought to be enough to regenerate a tumour, and is likely to be responsible for the high relapse rate of most cancers, he said.
The findings of the study appear in the international journal, Cancer Research.
Copyright ©2016, NZME. Publishing Limited