Oscars gossip round up: Eddie Murphy furious, Orlando Bloom flirty
1:00 PM Tuesday Feb 27, 2007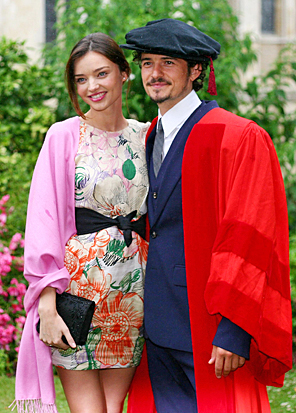 Eddie Murphy and Orlando Bloom
Eddie Murphy claimed he wasn't expecting to win at last night's Academy Awards, but he seemed mighty miffed when he didn't.
Us Magazine reports that the Dreamgirls star left the Oscar ceremony early in a huff after missing out of the Best Supporting Actor gong, which went to Little Miss Sunshine star Alan Arkin.
Murphy told the magazine, "It's fine. It happens. It's OK," before leaving the ceremony with girlfriend Tracey Edmonds, not staying to see fellow co-star Jennifer Hudson pick up the trophy for Best Supporting Actress.
Oscar lothario Orlando
Orlando Bloom turned on the charm at a pre-Oscars party and managed to chat up two stunning actresses.
Pirates of the Caribbean heartthrob Orlando flirted with both Penelope Cruz and Jaime Winstone at a pre-awards bash at Los Angeles' Soho House.
Lothario Orlando, 30, first worked his magic on Penelope, also 30.
"Orlando and Penelope flirted outrageously while playing pool," a source told Britain's Daily Mirror newspaper.
"Penelope seemed more than a little smitten and afterwards they retired to a corner for drinks - they couldn't keep their hands off each other."
After Penelope had left, Orlando turned his attention to British actor Ray Winstone's daughter, Jaime, 21.
The source added: "Orlando was talking to a pal when Jaime came over and gave his friend a hug. The actor immediately joked, 'Don't touch him - or you and I will never have kids.'
"Jaime loved the fact that he was so up front and soon Orlando had ditched his pal and taken her to the bar. Then they moved to another corner.
"They were cuddling and stroking each other's arms."
Orlando split with long-term girlfriend actress Kate Bosworth last year.
Last month, he and Penelope were rumoured to be dating after the pair celebrated Orlando's 30th birthday together.
Mirren's Oscar kiss
Dame Helen Mirren had to force her husband to give her a kiss when she won the Best Actress Oscar.
The 61-year-old actress won the award for her performance in The Queen but her director husband, Taylor Hackford, at first wouldn't give her congratulatory kiss because he didn't want to steal the limelight from her.
Mirren said: "I had to force my husband to stand up and kiss me. At first he didn't want to do it because he said, 'It's not my moment.' But I told him it was his moment as well."
The Calendar Girls star - who has also won a Best Actress Golden Globe and Best Actress BAFTA for her role as Queen Elizabeth II - dedicated her Oscar to the real British monarch.
Holding the gold statuette aloft, she said: "For 50 years and more, Elizabeth Windsor has maintained her dignity, her sense of duty, and her hairstyle. And I thank her because if it wasn't for her, I most, most certainly would not be here. Ladies and gentlemen, I give you the Queen."
Later as the couple left the awards ceremony her husband was stopped by an usher who reminded him he needed his ticket to get into the Governor's Ball, the official post-Oscars party.
When the usher also reminded Mirren, she waved her Oscar at him, saying: "I don't need a ticket, darling. This is the ticket."
Naomi's Oscar bump
King Kong actress Naomi Watts showed off her baby bump at the Oscars.
The actress – who is expecting her first child with boyfriend Liev Schreiber - looked stunning in a strapless, yellow Escada maternity gown with a black sash just below the bust to highlight her pregnancy.
A representative for the designer said: "The Escada gown set off Naomi's most precious new asset – the baby she is expecting with long-time boyfriend Liev Schreiber."
The Australian beauty has been dating the The Omen star for almost two years and though rumours of her pregnancy began circulating earlier this month she is yet to comment.
Last December, it was rumoured the couple are planning to marry.
A source said: "Naomi is ready to walk down the aisle with Liev - maybe soon.
"Liev doesn't want to waste anytime. He is absolutely thrilled Naomi is going to marry him."
Arkin hoped co-star would lose
Earlier in the night, Arkin said on the red carpet that he hoped his co-star, ten-year-old Abigail Breslin, nominated for Best Supporting Actress, lost.
He said: "I hope she loses frankly. No, I'm serious. I am not joking.
"I hope she loses. What, next year she is going to get the Nobel Prize, it's enough. She has had enough attention. I love her and I love her family and I feel enough is enough. She is a kid, she needs to have a childhood. I hope she loses."
- BANG! SHOWBIZ
Copyright ©2016, NZME. Publishing Limited