P&O pays up and apologises for cruise ship death
5:00 AM Saturday Feb 24, 2007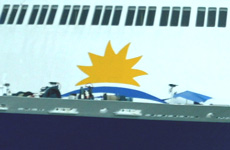 The Pacific Sky, the ship on which Dianne Brimble died. Photo / Martin Sykes
The family of Dianne Brimble, the Australian woman who died on a cruise ship from a combination of alcohol and a date-rape drug, has reached a settlement with the shipping company P&O Cruises.
The amount of the compensation has not been revealed, but reports in the Australian press have described it as substantial.
The settlement was reached within a week of the arrival in Australia of P&O chief executive Peter Ratcliffe from the US and followed months of negotiations.
Mr Ratcliffe, a board member of P&O's parent company, Carnival Corporation, held a press conference in Sydney to apologise to the family and admit that P&O had contributed to their suffering.
"We have made the grief for that family much more than it should reasonably be," Mr Ratcliffe said.
"For our part, we feel we have a moral obligation to do what we can to ensure that the family, particularly the children, are properly provided for.
"I expressed our sincere hope that through this process we may help bring some form of closure to the family for their tragic loss."
Mrs Brimble, 42, died from a toxic combination of alcohol and the date-rape drug fantasy (gamma-hydroxybutyrate), on the P&O liner Pacific Sky in September 2002.
An ongoing NSW inquest has heard she died after suffering cardio-respiratory arrest.
Eight men travelling together on the ship became persons of interest in the case and many have given testimony at the inquest.
Mrs Brimble's naked body was found on the floor of a cabin occupied by four of the men.
The inquest has heard Mark Wilhelm provided Mrs Brimble with the drug and was later photographed having sex with her.
Mr Ratcliffe denied P&O's offer was an attempt to head off a civil lawsuit from the Brimble family.
He also denied the company was trying to quell an expected media frenzy once the inquest concluded in July and later issued its findings.
The inquest heard evidence from a cruise ship magician, who danced with Mrs Brimble the night before her death, that he was told to "shut his mouth" by a ship's security guard when he tried to give them information about some of the men who have since been named as persons of interest in her death.
The inquest has also been told that a steward on board the cruise ship did nothing when passengers alerted him to a group of naked people inside the men's cabin and a large wet patch, which smelled of urine, just outside in the corridor.
Mr Ratcliffe said the Brimble inquest had been a wake-up call to the company. "There has been excessive behaviour by a minority of people. We've tolerated that. It's occurred often in places which nobody, the main people on the cruises do not see, and we have to completely stamp that out and stop that behaviour," he said.
Mr Ratcliffe met Mrs Brimble's first husband, Mark, and her partner David Mitchell in Brisbane on Monday.
Mr Brimble said it was the first time he had seen a "human face" of the company.
"I think it was the first time in 4 1/2 years that we were able to give some information to the children and close family that was positive, as opposed to every other bit of information which was dreadful to have to share with them," he said.
"The inquest has been extremely long, excruciating for any person, whether connected to the family or not, to come in and see what happened or may have happened that night. I can say that the children or family have not coped well, are still finding it extremely difficult."
Members of the Brimble family held a press conference of their own in Brisbane.
Mr Brimble said it was a wake-up call to cruise ship operators.
"Other cruise liners that cruise in and out of Australia and anywhere within the Asian region or even right around the world should take note. They should take note that the fact that these measures have to change internationally not just specifically to Australia." P&O sold the Pacific Sky in December 2005 and now has three Australian-based ships, the Pacific Princess, Pacific Sun and Pacific Star, as well as the Sapphire Princess, which visits Australia.
Bar staff no longer receive sales commissions, passengers may not bring alcohol on board, bars are closed during early morning hours and more effort is being made to ensure under-aged passengers are not served alcohol.
Closed-circuit television cameras have been installed at a cost of A$2 million ($2.24 million).
Drug sniffer dogs are also present when passengers board the cruise liners.
A zero-tolerance policy over excessive behaviour has been adopted, resulting in up to 10 people a voyage being kicked off at a ship's next port of call.
Mr Ratcliffe said: "Mrs Brimble's death and the scrutiny of the inquest have changed us for ever."
- Agencies
Copyright ©2015, NZME. Publishing Limited