Hot deals: Mountain views and adventures on offer
By Victoria Bartle
5:00 AM Thursday Feb 15, 2007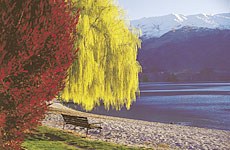 Lake and mountain views are guaranteed in Wanaka.
$300 for two nights
WANAKA
No need to pay more than $400 a night for a room for two in Wanaka's Oakridge Resort Grand Mercure - for a short time, the hotel has slashed its rate to $140 as long as you book for at least two nights.
The hotel boasts seven spa pools and two heated pools - and if you like you can take your family, as the price covers two adults and one child, and guarantees you a room with a balcony and mountain views. Choose from summer activities ranging from kayaking, water-skiing and wake-boarding to jet-boating, white-water rafting, horse-riding, para-gliding and four-wheel-drive safaris. For those who prefer to stay on land, there's golf, tennis, wilderness walks and paint-balling.
Contact: Wotif.com, freephone 0800 441 092 or book online here.
Under $350
THAILAND
You choose the hotel or resort in Phuket, Thailand, where you would like to stay, and 10 nights' accommodation will be arranged for you - with daily American-style breakfasts - from $326, twin-share.
The deal is available only if you book flights to Thailand with Thai Airways, which can be added to the package. The accommodation package price varies, depending on which hotel you choose. Return transfers from Phuket Airport to your hotel are included.
Available for purchases made by October 1 and you can travel between April 1 and October 7.
Contact: Royal Orchid Holidays (09) 09 969 9560 or email them here.
Under $450
FIJI
Spend five nights in total relaxation at the tranquil Anchorage Beach Resort in Fiji, and enjoy all sorts of pampering treats, for less than $90 a night. The resort is offering a romantic getaway that includes return airport transfers, a half-hour body massage for two people, a romantic dinner on the night of your choice, and a day cruise to a deserted island, complete with your lunch and an open bar.
Staying in a Beachside Villa, this package is on offer until April 1 for approximately $435 a person, twin-share. Flights from New Zealand are not included.
Contact: Anchorage Beach Resort in Fiji, 00679 6662099.
On the web: jasons.com
Under $1000
CHINA
Victoria Cruises on the Yangtze River in China is an American-managed cruise service offering four- and five-star cruising, starting at $939 a person, twin-share.
The price includes all meals and on-land excursions, plus pre- and post-tour transport to and from the airport. The cruises range from four days to seven days and include a visit to the Three Gorges Dam. Flights from New Zealand can be arranged separately.
Contact: China Holidays, freephone 0800 824 462
On the web: chinaholidays.co.nz
Under $2200
AUSTRALIA
Cross the Tasman Sea to Australia aboard Sapphire Princess - or vice versa - and you'll get the 12-night cruise from $2199 a person, twin-share. An airfare to get you home from Australia - or to get you to Sydney to board the ship - is included in this price. Also included are main meals and entertainment on board the ship, and port handling fees. For an extra $250 each you can be upgraded to an outside cabin where you can see the ocean from your window.
Whether you choose to cruise from Auckland or from Sydney, Sapphire Princess goes via Melbourne, Hobart, Fiordland, Dunedin, Christchurch and Tauranga.
Contact: Lion World United Travel, freephone 0800 277 477, or email Alicia Styles here.
On the web: unitedtravel.co.nz
By Victoria Bartle
Copyright ©2014, APN New Zealand Limited