Lahar alert rises as Crater Lake swells
5:00 AM Monday Jan 29, 2007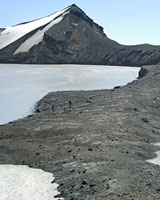 The Crater Lake nears the top of the dam. Photo / DoC
Mt Ruapehu's Crater Lake has swelled to within 1.5m of its unstable lip, boosting the emergency agencies' alert level for the lahar expected to burst down the mountain's eastern slopes any time soon.
After a visit on Saturday to the volcanic lake near the summit of the North Island's tallest mountain, scientists reiterated that the huge and long-predicted slide of mud and boulders could happen as soon as Thursday.
"It is still expected the earliest the dam might start collapsing to create a lahar down the Whangaehu River is February/March," said the Department of Conservation.
DoC scientist Dr Harry Keys said: "The lake level has increased by 0.4m since the last visit to the crater [eight days earlier] and was expected given the period of warm weather creating steady snow-melt."
The lake's "tephra" dam is made of unconsolidated material blasted out of the volcano and on to the old lake outlet during the mountain's 1995-96 eruptions. The dam's inevitable collapse from the rising lake level will release tonnes of water, causing the lahar.
Seepage from the dam had increased by half between the earlier visit and Saturday's check by staff from DoC and Geological and Nuclear Sciences.
Scientists hope the lahar is imminent.
"The sooner it happens, the smaller it's going to be," said DoC spokesman Dave Wakelin.
At New Year, the lake level was 2.8m below the dam's top and erosion has been increasing.
Prior to Saturday's check-up, the lake was estimated to be filling at a rate of 6000cu m of water a day, from rain, and the melting of ice cliffs and snow.
"The bulk of the lake filling is through snow melt and, of course, that's why you get an increase in lake-filling over the summer months," Mr Wakelin said.
Outflow from the lake was 1000-2000cu m a day, he said on Friday, but warmer water and evaporation were likely to be balancing the inflow significantly. He said that if the lahar did not occur in February or March, it might not be until much later.
"Usually by mid-April, you get the first of the winter snows ... and that's when the amount of snow-melt really drastically slows down, as things start to cool, so it could still be possible that we could go through another winter [without a lahar]."
Once the dam breaks, the lahar is expected to flow down the mountainside to Tangiwai and out to sea. A barrier of boulders and gravel has been built to divert it into the Whangaehu.
Copyright ©2016, NZME. Publishing Limited