Basketball: Sean Marks on Tall Blacks wish list
1:30 PM Friday Jan 12, 2007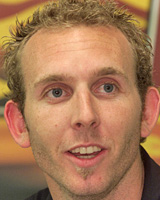 Sean Marks
New Tall Blacks basketball coach Nenad Vucinic is attempting to lure National Basketball Association (NBA) player Sean Marks out of international retirement.
Marks, who has not played for New Zealand sine the 2004 Athens Olympics, last July joined the Phoenix Suns after two years with the San Antonio Spurs, but has had minimal game time with his new team.
Vucinic has been in the United States for the past two weeks visiting a handful of Tall Blacks prospects.
He said he spent a couple of days in Phoenix and watched the Sun's 113-102 win over Seattle Supersonics, although Marks was not playing.
He said he didn't want to pressure Marks for a decision on re-joining his national team but was optimistic.
"I think the talks were successful," he said. "Sean has made no commitment yet, but he is interested in revisiting his decision to retire.
"I told him I would like him to play and he was very positive and asked questions about what was happening this year," Vucinic said.
The Tall Blacks face a must-win series against Australia in August with the winners claiming the only Oceania berth at next year's Beijing Olympics.
The losers of the showdown can still qualify through a repechage tournament in Europe before the Olympics, but it would be a daunting task.
Marks was the first New Zealand player to enter the NBA when he was drafted by the New York Knicks in 1998.
- NZPA
Copyright ©2016, NZME. Publishing Limited