Humpback whale holes yacht
5:00 AM Wednesday Jan 10, 2007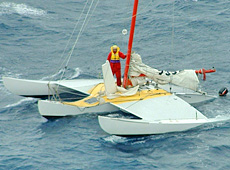 Lindsay Wright waits on the deck of his damaged trimaran as the rescue helicopter approaches.
A yachtsman was airlifted to safety after a collision with a humpback whale that left his 10m trimaran with a gaping hole in its main hull.
Lindsay Wright, 52, was sailing Loose Goose home to New Plymouth and was about 150km from Port Waikato at midday yesterday when the whale crashed into his vessel.
"I was sitting down napping, and there was a loud crack," he said.
"By the time I swung my knees out of my bunk, the cabin was knee deep in water.
"I jumped up on deck and a big male humpback whale just nosed up to the boat. We looked at each other for maybe 30 seconds.
"I was just too stunned to be scared. I hoped he wasn't coming back for the coup de grace."
Mr Wright said he wondered whether the whale had been sleeping on the surface and the boat had ran into it, frightening it and causing it to slam his tail into the hull.
"It was just a sharp crack. I thought the mast had come down."
The whale dived under the boat where it played for about 10 minutes before joining a pod of about six others.
With the water rising in his yacht, Mr Wright set off his emergency beacon and waited for help.
He tried to cover a 1m hole in the hull with a sail and bail the water out, but was unsuccessful. So he waited while the water slowly rose.
"The alternative was a little rubber dinghy, and there was probably four to five-metre seas and 25 knots of wind so it wouldn't have been much fun in the dinghy."
As the afternoon passed and the weather deteriorated, he began to wonder if his beacon signal had been detected and if he would have to spend the night in his dinghy.
The rush of water after the impact was so quick that his radio batteries were damaged and he had no way of communicating with rescuers.
The Rescue Co-ordination Centre picked up Mr Wright's distress alert at 1pm.
At 6pm, the Northland Emergency Services Trust Helicopter arrived with St John paramedics on board, and Mr Wright was winched to safety.
"The rescue helicopter guys were just wonderful - they were brilliant. They just winched me off. She was settling fast at that stage."
St John Northland District operations manager Donna Austin was lowered on to the sinking boat to rescue Mr Wright.
"It was a fairly moderate sort of a sea, so the vessel was rocking around quite a bit. Without a sail up, it was a little bit unstable.
"When I got on board, I guess he was quite shellshocked but able to obey commands. It was up and out of there pretty quickly. From the time I was on the deck of the boat to back on board was about three or four minutes."
Ms Austin didn't see any whales, but said she didn't have time to look for them.
"I have heard lots of stories about whales striking yachts in the open sea, so I'm sure it's not too uncommon."
A Maritime Safety Authority spokesman said boats colliding with whales and sinking was "not unheard of, but it's not common either".
The MSA said there was a gap between the time the alert came in and the rescue while it was determined whether the distress signal was genuine.
More than 90 per cent of alerts are false or accidental.
In January last year, a launch carrying five adults and two children sank off Northland after apparently being hit by a whale. They said a whale hit the rudder.
The MSA spokesman said boaties had to be aware of the potential for a "whale hazard", despite it being unusual. "Obviously, if you hit a large whale in a small boat, you will know about it."
- Additional reporting by Stuart Dye
Copyright ©2015, NZME. Publishing Limited