Big wet, snow, gales - we got it all
By Julie Fitzgerald
5:00 AM Wednesday Dec 20, 2006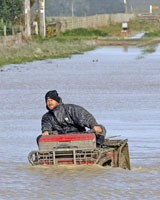 Farmer Steffen Akkerman negotiates a flooded road in Whangaehu, near Wanganui, in July. Photo / Anthony Phelps
Our loyalty has been sorely tested this year.
The Aussies tried to tempt us across the Tasman with THAT ad. The one with the bronzed bikini-clad woman strolling along a beach with the bleached sky in the background, appealing in her best twang: "So, where the bloody hell are you?"
And tempting it was. While Australia baked, parts of New Zealand nearly washed away or froze.
As the economic impact of Australia's endless sun became apparent, the Big Wet, the Big Snow and the Big Wind all messed with the hearts and minds of New Zealanders.
The stand-out event was the heaviest snowfall in decades, which arrived in the South Island on June 12, heralding an abrupt start to winter.
"That's probably the significance of 2006 - the early start to winter," said meteorologist Bob McDavitt. "It was all on from then."
The island was blanketed in snow down to sea level - the deepest Canterbury had seen since 1945.
Rural properties were isolated and power was cut to more than 10,000 homes, some of them for up to 18 days.
Freezing conditions meant the snow lay on the ground for up to two weeks, freezing crops and stock feed.
"We issued a record number of warnings for wind and rain and snow for that storm," Mr McDavitt said.
The severity of the storm eclipsed Canterbury's Big Snow in 1992.
It formed as a weather system which carried considerable moisture from as far away as Indonesia before meeting up with very cold air which had just arrived over New Zealand.
"We took a lot of moisture and cooled it very quickly. That was good for making heaps of wind and rain and snow. It was a very dramatic storm."
The whiteout generated insurance claims of about $42.5 million, making it the most destructive winter blast New Zealand has seen.
For people in the lower North Island, there was more chance of being washed away than freezing to death.
Three very wet depressions in a row dumped record rainfall to create waterlogged conditions in early July.
Rainfall was more than 200 per cent of normal in Wairarapa, and more than 150 per cent in Wanganui, Hawke's Bay and Wellington.
"You never really recovered from that lot," Mr McDavitt said. "That set you up for super-saturated soil so you kept having slips on and off for the rest of the winter."
Three homes were lost in Wellington as they slipped from their foundations or banks gave way beneath them. As for wind, Wellington and Wairarapa again copped the worst.
Wellington had its windiest spring since records began in 1967 as for 27 days in October wind gusts of at least 60km/h were recorded in Kelburn.
High winds also took out power in large parts of Auckland in June and again in November, and Timaru Boys' High School lost a huge section of roof during severe October gales.
Interisland ferries twice came to the attention of Maritime New Zealand over Cook Strait crossings in hazardous conditions.
A highly critical draft report into an Aratere sailing from Wellington on March 3 found the ferry nearly capsized. The ferry, with 359 passengers on board was hit by two waves estimated to be between 12m and 14m high, stalled and rolled heavily.
The crossing took 7 1/2 hours instead of the normal three.
Again in October, Maritime New Zealand decided to review a difficult sailing made by the Kaitaki in a storm.
The sailing took 10 hours and passengers had to endure 9m swells. The ferry, with 800 passengers aboard, was forced to take shelter in Cloudy Bay, near the entrance to the Tory Channel. One passenger described the ship as a "war zone".
Although it seems to have been a year of extremes, Mr McDavitt wasn't buying into the argument that it's all the fault of global warming.
He didn't rate the year much ahead of 2004 and 2005 - memorable for damaging floods in Matata and Manawatu.
Meteorologists were only interested in studying the June 12 snowstorm, he said.
"We are still analysing the conditions that came together to create such a devastating blast. We don't see that very often. It was a rare beastie."
So, was it all doom and gloom? Those working in the ski industry aren't complaining. They had a bumper season and gross revenue topped $75 million, the highest yet.
But if you're more of a beach bunny, don't dust off your cossie just yet ... El Nino conditions means the summer is likely to be patchy, at best.
- NZPA
By Julie Fitzgerald
Copyright ©2016, NZME. Publishing Limited