Vogue says fluffy slippers and hamburgers are cool
1:11 PM Tuesday Nov 7, 2006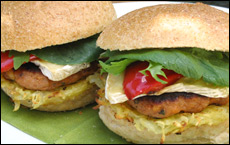 Hamburgers have moved 'higher up the food chain'.
LONDON - The fashion bible Vogue has decided to champion the uncool with a list of must-haves such as fluffy slippers, plastic sandals, takeaway kebabs and a package holiday.
In a supplement to its December issue, UK Vogue devotes a page to "Upmarket-Downmarket", and says "cheap and cheerful favourites are going up in the world".
Readers hoping to join the fashion A-list should beware, however. Vogue's cheap is not necessarily everyone's cheap.
The first entry in the nine-item list is fluffy slippers, more at home in the television soap Coronation Street than on the catwalks of Milan. The sheepskin pair recommended by Vogue costs 105 pounds ($298).
The package holiday is a Club Med trip to the Thai resort of Phuket, costing at least 1,347 pounds ($3,823) per week.
Hamburgers have moved "higher up the food chain", but Vogue advises people to order them from smart restaurants such as Nobu, while plastic sandals, "the naff seaside staple", have gone upmarket with a version by Louis Vuitton.
Takeaway kebabs make the list, as does a chocolate Advent calendar. Chocolate manufacturer Green & Black's has designed a single calendar that will cost 30,000 pounds ($85,000), the proceeds of which go to a fair trade project.
Jewellery designer Tarina Tarantino has created a crystal collection inspired by the Barbie doll, fashion label Miu Miu has produced a "wonderfully ostentatious" iPod holder and designer Giorgio Armani is selling a diamante brooch.
- REUTERS
Copyright ©2016, NZME. Publishing Limited