Squid star of Freaky Fish show
By Michelle Coursey
8:20 AM Saturday Sep 23, 2006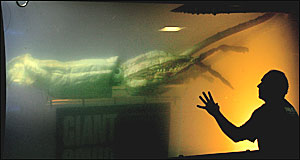 As well as this squid the Freaky Fish exhibition includes a dumbo octopus, viperfish and triplewart seadevil. Picture / Brett Phibbs
With eyes the size of grapefruit and a 5m tentacle curling around the tank, Squid Vicious looks like a prop from an underwater horror movie.
The 8.23m-long dead giant squid is the star attraction in Kelly Tarlton's Underwater World Freaky Fish exhibit, which opens today.
Squid Vicious, as he has been nicknamed by staff, was caught by a trawler off the West Coast of the South Island six months ago.
Giant squid are frequently caught by fishing nets, but are almost always dead and mangled by the time they surface. However this squid is largely intact, albeit with a few battle scars.
His body rests in a specially made 3.8m tank filled with chilled sea water between 10C and 18C.
The squid has been partly preserved, but placing it in water, rather than alcohol, is a new approach being tested by Kelly Tarlton's.
Weighing 100kg, Squid Vicious is about 1 year old and fully mature. He has a body, two long feeding tentacles and eight arms with suction cups on them.
Visitors to Kelly Tarlton's yesterday were fascinated by the squid, stopping to stare, and asking operations manager Andrew Baker questions.
One young admirer summed up his reaction succinctly: "Woah."
The director of the AUT's Earth and Oceanic Sciences Research Institute Dr Steve O'Shea supplied the specimen for display. "I live, eat and breathe squid," he said.
By Michelle Coursey
Copyright ©2015, NZME. Publishing Limited