They call me Bruce, the dairy robot
By Stephen Ward
9:38 PM Sunday Sep 10, 2006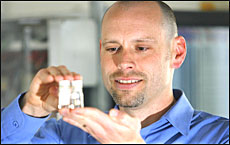 Sensortec chief executive Rod Claycomb with examples of milk-based products used in the neutraceutical industry. Picture / Sarah Ivey
A rather mundane-looking robot nicknamed Bruce is at the centre of attempts to spark something of a value-added revolution in the dairy sector.
Bruce is an on-farm fractionation device designed to separate out high-value proteins and fats from raw whole milk for use in the neutraceutical industry, which makes foods that can act as medicines.
His developers believe robots have the long-term potential to add tens of millions of dollars a year to dairy sector export earnings.
Bruce - created by dairy research organisation Dexcel and technology company Sensortec, with help from Waikato University - is based at Dexcel's Greenfields project in Hamilton.
The prototype device - which can mine the output of 14 cows a day as part of the milking process - is believed to be a world first for use at farm level. Developers say it could be adapted to handle production from a herd of 1000 cows or more.
While current global demand for such extracts is currently met by factory-based systems, it is thought on-farm operations would get product of a higher quality and value.
Also, taking extracts on-farm means getting more per litre of the useful proteins and fats which can degrade over time and during factory processing, said Dexcel scientist Jenny Jago.
Bruce is currently proven for extracting lactoferrin and lactoperoxidase, two ingredients which are believed to have anti-carcinogenic properties. Lactoperoxidase is also thought to be anti-bacterial.
Sensortec chief executive Rod Claycomb said the amount of lactoferrin extracted from one milking was currently worth about 10 per cent more than the actual milk.
Other extracts could also fetch more, while the milk is still able to be used for other dairy products.
The developers acknowledge on-farm systems could depress wholesale extract prices but feel on-farm produce would get a premium. Patents for the on-farm technology have been filed.
Claycomb estimated equipment for a 600-plus cow herd could cost in the range of $100,000-$200,000.
"We think the return on investment at a farm level would be within the first two or three years."
But Claycomb said developers still wanted to prove the machine could extract other substances before manufacturing it commercially, so it could be 5-10 years before on-farm robots were marketed widely to farmers.
By Stephen Ward
Copyright ©2016, NZME. Publishing Limited