Rooms with $10m views
12:38 AM Sunday Sep 3, 2006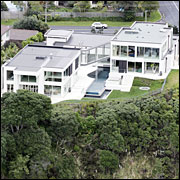 The Castor Bay mansion was built six years ago and has six bedrooms and five bathrooms. Picture / Doug Sherring
The couple who made their fortune selling Christmas food hampers have put their exclusive clifftop mansion on Auckland's North Shore up for sale - and it comes with a pricetag of more than $10 million.
The 0.3ha Castor Bay property, which offers stunning views across to Rangitoto Island, was listed last week on behalf of Chrisco founders Richard and Ruth Bradley, who have built an empire around selling Christmas hampers.
The cost of the mansion puts it among the most expensive properties in Australasia. On a floating mortgage rate of 9.55 per cent and with a minimum 5 per cent deposit, monthly repayments on the property would be $87,316. Add to that annual rates of $17,000 and this is serious money for anyone interested in acquiring the 1000sq m home.
The Bradleys weren't talking last week, but Quotable Value records show the couple bought the Beach Rd property in September 1999 for $2.8 million. The following year they built the clifftop mansion, which features six bedrooms, five bathrooms, three living areas, a gym, sauna, office and outdoor swimming pool.
The Bradleys are no strangers to high-priced real estate. As directors of Lurcher, they are involved in building what is thought to be New Zealand's largest house, on Mahoenui Valley Rd north of Albany. The estimated $30 million property features tennis courts and a large swimming pool.
However, despite the couple's apparent wealth, they have never featured on the National Business Review Rich List, which has a $25 million entry level.
The agent for the Castor Bay property, Pamela Riley, said a large advertising campaign would begin next month to push the sale of the clifftop mansion.
The most expensive New Zealand property for sale is the $30 million Cowes Bay Estate on Auckland's Waiheke Island. The 36ha estate has a white plantation-style home with eight bedrooms and six bathrooms.
It opens on to a large, enclosed courtyard with a swimming pool and tennis court, caretaker's house and boatshed.
The property is going for more than twice the $14 million record set by Auckland financier Mark Hotchin in November when he bought a 4ha Boathouse Bay property on Waiheke.
Copyright ©2015, NZME. Publishing Limited