Storm keeps space shuttle grounded
By Irene Klotz
9:48 AM Tuesday Aug 29, 2006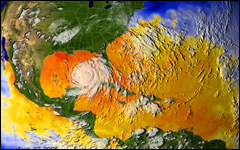 This weather map shows the hurricane over the south-eastern United States. Picture / Reuters
CAPE CANAVERAL, Florida - Space agency Nasa today said it plans to pull space shuttle Atlantis off its seaside Florida launch pad and return the ship to a protective hangar to avoid damage from approaching tropical storm Ernesto.
The move will postpone for an uncertain period this week's planned launch of Atlantis on a mission considered vital to the future of the International Space Station.
"It's clear in our minds that we are rolling back unless something real extraordinary happens," shuttle launch director Mike Leinbach said at a news conference on Monday. "We wish we weren't in this situation but we are."
Ernesto is forecast to blast through Florida and exit north of the Kennedy Space Center after making an expected landfall late on Tuesday or early Wednesday, local time.
Nasa rules mandate that shuttles be removed from their launch pads and taken indoors about two days prior to forecasted winds of at least 58 miles per hour.
Officials planned to begin moving the shuttle back into the space center's cavernous massive Vehicle Assembly Building by 10 a.m. EDT on Tuesday. However, if the storm's path should change, Nasa could reverse course and be prepared for a launch attempt by the end of the week.
Removing the shuttle from its launch pad precludes the possibility of making a launch attempt by September 7, when technical and other factors will have ended Nasa's launch window for flights to the space station.
But Nasa has asked its Russian partners to change a planned Soyuz launch to the station, which would open another six days for shuttle launch attempts. The agency also was looking at easing launch restrictions against night-time flights that were imposed after the 2003 Columbia accident to assure cameras would have a good view of liftoff.
If Atlantis cannot fly in September, the next opportunity for flight would be in October.
The shuttle's six astronauts were scheduled to spend 11 days in orbit to deliver and install a 35,000-pound power module to the space station.
Nasa must finish the station by 2010 when the shuttle fleet is retired.
- REUTERS
By Irene Klotz
Copyright ©2015, NZME. Publishing Limited