Pig cell treatment may start again
11:53 PM Thursday Aug 24, 2006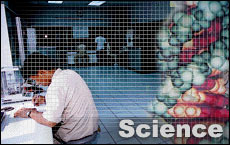 Experimental pig-cell transplants into diabetics may resume after a 10-year ban caused by a disease scare - if health authorities approve.
Professor Bob Elliott halted a ground-breaking trial injecting type 1 diabetes sufferers with insulin-producing cells from pig pancreases in 1996 because of fears that humans could be infected by pig viruses.
Yesterday, the company of which he is medical director, Living Cell Technologies, announced that it had applied to medical regulator Medsafe to start a new human trial using an improved version of the same idea.
It wants to run a year-long trial involving eight adult diabetics, injecting into their abdomens more than a billion gel-coated cells from piglets taken from the company's herd. The trial would be run from Middlemore Hospital.
The application follows trial transplants into animals with diabetes, which produced no adverse effects, a significant reduction in insulin requirements and freedom from insulin dependence in some cases.
Professor Elliott said he expected similar results in humans.
"We may be lucky enough to get somebody off insulin; that's not really what we are after in this first round. What we want to see is whether we do get an effect and how long it lasts. We are expecting this to last for at least a year if not more."
If the treatment proved a success, he expected it would be fairly straightforward to fast-track it to routine use.
Despite the scare about pig retroviruses infecting humans, there was no evidence of this, nor of other animals being infected.
The company felt it was worthwhile seeking approval following the report by the Bioethics Council last year which found that the potential medical benefits of transplants from animals to humans outweighed any cultural, ethical and spiritual objections. The council urged that applications be considered case by case.
"There's been an about-face in New Zealand," said Professor Elliott.
Medsafe's principal technical specialist, Dr Stewart Jessamine, said the Health Research Council would consider the safety and validity of the application. If the council supported the trial it would go on to an ethics committee and the Health Minister.
"It is likely to be several months before a final decision can be made on this application."
Diabetes Youth NZ president Adrian Coombe said the group would support the trial if done in a "safe and stable environment".
"If it gives the kids and all those with type 1 diabetes another choice all the better."
Aucklander Michael Helyer - a diabetes sufferer who took part in the 1996 trial and still derives a degree of benefit from the remaining transplanted pig cells in his body - said he would be interested in taking part in the new trial.

How it works
* Insulin-producing cells taken from pancreas of aborted full-term piglets from a special herd.
* Injected into abdominal cavity of person with type 1 diabetes.
* The cells release insulin. Aim is to reduce or end the need for insulin injections.
* First trial patients will initially receive 1.4 billion cells, for a person weighing 70kg; more later if needed.
Copyright ©2015, NZME. Publishing Limited