Bali bombers seek review as executions loom
2:33 PM Wednesday Jul 5, 2006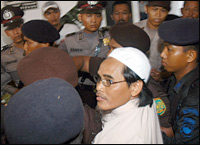 Amrozi (C) was convicted alongside Imam Samudra under anti-terror laws passed after the attacks. Picture / Reuters
Two of three men on death row for the 2002 Bali bombings are seeking a judicial review of their convictions, as Indonesian authorities prepare to carry out their executions.
Amrozi and Imam Samudra were convicted under Indonesia's anti-terror laws, which were passed after the 2002 attacks.
Radio Australia's correspondent in Jakarta, Geoff Thompson, said since then Indonesia's constitutional court had ruled that the new laws did not operate retrospectively.
The men's lawyers said that ruling could be considered as new evidence and the basis for a judicial review.
Ali Ghufron, otherwise known as Mukhlas is also on death row for his role in the attacks, that killed 202 people - including three New Zealanders.
The news follows a decision by Indonesia's attorney general, Abdul Rahman Saleh, to support the men being executed at Nusakambangan island jail, rather than in Bali.
Amid local protests, the three bombers were moved to the nearby island jail of for security reasons last October.
Indonesian police said a firing squad had already been prepared.
- RADIO AUSTRALIA
Copyright ©2015, APN New Zealand Limited