Diabetes blocks couple's bid for residency
7:24 PM Thursday May 25, 2006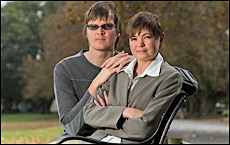 Logan Gouws and Natalie Ericsen have good jobs and their employers want them to stay. Picture / Richard Robinson
A young South African couple with well-paid jobs at Vodafone, where they are described as model employees, are frustrated they cannot get permanent residency because one of them has diabetes.
After training in computer science, Natalie Ericsen, 29, and Logan Gouws, 28, came to New Zealand from Cape Town three years ago hoping to make their home here.
Right from the start Ms Ericsen had declared she had childhood-onset diabetes, and had a medical examination in South Africa as required.
The pair were encouraged to move to New Zealand where their chances of gaining residency were rated highly by an immigration agent.
The couple both got skilled IT work in Auckland but failed to gain residency after applying in September 2003.
They were turned down in August 2004 on grounds including Ms Ericsen's health.
About that time a specialist detected the first stages of renal failure, but Ms Ericsen said she managed her condition carefully and was able to continue full-time work.
"I know my condition is serious but my doctor says my health is actually quite good."
Ms Ericsen, who has family in New Zealand, said she had four donors lined up for a kidney transplant and was willing to pay for the operation herself.
She said she and her husband are both on good salaries at Vodafone, where she is employed as a financial analyst and Mr Gouws as a technical analyst.
They appealed against the residency decision in November 2004 but had no idea how long it would take to get a hearing.
Their work permits were due to run out next Wednesday but shortly after the Herald interviewed them yesterday, the Immigration Service contacted them to say the permits had been extended for another six months.
They were told it was expected their appeals should be resolved by then.
Vodafone wants them to stay.
John Tombleson, general manager of the financial services group, said the pair were model employees but the uncertainty of their future in New Zealand made things difficult.
It was not easy to find people with their skills and it had taken eight months to fill their positions.
The Department of Labour has said Ms Ericsen was not accepted for residency because she failed to meet immigration health criteria as a result of her diabetes and she did not have enough work experience at the time to meet immigration policy criteria.
Graham Baker, the department's immigration service delivery group manager, said immigration policy specified which medical conditions made it unlikely a person would be accepted for residence.
The rationale behind the policy was the likely cost to the New Zealand taxpayer of treating migrants' health conditions.
"We can understand Ms Ericsen's upset at the outcome of her residency application. We will continue to provide her and her partner with work permits until the appeal she has lodged has concluded."
Mr Baker said Ms Ericsen also did not have enough points from work experience and qualifications to meet the criteria.
"People interested in migrating to New Zealand are encouraged to educate themselves on what immigration criteria they will need to meet. This includes being able to meet health character requirements."
Mr Baker said Ms Ericsen had used a consultant, who should have been familiar with the policies.
Although Ms Ericsen had private health insurance, she had end-stage renal failure and the provision of dialysis treatment or a transplant could only be made via the public health system.
There was discretion where people could apply for a medical waiver.
"In the case of Ms Ericsen, this was thoroughly considered, but turned down."
Copyright ©2016, NZME. Publishing Limited