Glamming it up, lodge style
By
Jo McCarroll
, Alexander Bell, Patrick Crewdson, Antony Phillips
2:56 PM Sunday Feb 12, 2006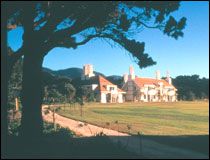 With its sublime setting, Wharekauhau Lodge attracts an international clientele.
Just a few years ago, New Zealand had one top lodge. Now, we have a thriving luxury travel industry. The Herald on Sunday visited four of our best lodges.
Blanket Bay
The drive from Queenstown to Glenorchy is a luxury on its own. The hassle of crowded motorways is a world away from the silent drama of the long reach of Lake Wakatipu with the Richardson and Humboldt ranges towering above each shore. The new-money developments of Queenstown are soon forgotten on the 35-minute drive to Blanket Bay, hidden from the road on the eastern shore of the lake, just before tiny Glenorchy.
Of course, not everyone drives to Blanket Bay. You can helicopter in from Queenstown airport for $730 but that didn't suit my budget. Besides, it's a splendid drive.
The famous and seriously rich and the unknowns on the holiday of a lifetime arrive at this southern outpost of luxury, often as part of a tour of New Zealand's top lodges.
Luxury is something for which New Zealand is gaining an international reputation. Ten years ago there was only Huka Lodge, points out Tom Tusher, the affable American owner of Blanket Bay. Now we have Huka Lodge, Blanket Bay, Wharekauhau and Kauri Cliffs in the luxury league, and several others nipping at their heels.
Few other small nations can offer such an attractive combination of world-class accommodation in drop-dead gorgeous locations just a few hours travel from each other. Not that Tusher had a luxury lodge in mind when he bought this land, reportedly for $21,000, down what was then a winding gravel road more than 30 years ago.
His wife Pauline frequently asked him why he didn't just sell it. "It's just too beautiful to sell," the former president of Levi Strauss would say.
In 1998, work started on one of the most extraordinary lodge projects in New Zealand. Built from hundreds of tonnes of rugged recycled wood from dismantled West Coast bridges and even a Brisbane wharf, and a mountain of stone from the Tusher's own quarry, Blanket Bay Lodge is a signature building in the heart of what was to become Lord of the Rings country.
Everything here is on a grand scale - from the sweeping 10m high Great Room and the view of the Humboldt ranges from the lodge, to the heated outdoor pool which looks over Lake Wakatipu and the opulent chalet accommodation with superb mountain vistas.
The lodge, built in an astonishing 18 months and with grounds extensively planted with native grasses and trees, has graced the pages of prestigious international travel magazines such as Conde Naste Traveller and Forbes Life, and was named the Ultimate Escape in the Editor's Awards section of the 2004 Sunday Times Travel Magazine Awards. The Small Luxury Hotels of the World 2005 directory bills Blanket Bay as "a microcosm of civilisation set in the vast wilderness of the Southern Alps".
Needless to say, rooms are appointed to the highest standard with heaven-sent beds and super-sized televisions. Former New Zealand chef of the year Jason Dell is executive chef, with fine Pacific Rim cuisine and relaxed breakfasts served in a dining room with a view for your eyes to devour. The luxury lodge tradition of guests mingling for pre-dinner cocktails is adhered to in The Den, where among the wines served are those from Tusher's own Amisfield label.
Activities range from fly fishing, heli-fishing, hiking, horseback riding, Dart River jetboating, heli-skiing and scenic flights. Or just relax in the health and spa facilities at the lodge.
It's worth contacting Blanket Bay if you're contemplating a treat for you and your partner. Increasing competition in this market means there are special rates from time to time and the number of New Zealanders visiting Blanket Bay is increasing.
* Blanket Bay is 35 minutes' drive from Queenstown, or 50 minutes from Queenstown airport, on the road to Glenorchy. Accommodation starts from $1290 for a room to $1990 for a suite (plus gst). Chalets from $1990 to $2390 (plus gst). Go to www.blanketbay.com (link at foot of page)
* * *
Huka Lodge
I have always meant to go to Huka Lodge but, alas, I keep forgetting to amass dizzying wealth or attain that "I'm pregnant to Brad Pitt" level of celebrity. So needless to say I seized on the opportunity of a weekend there with alacrity. Such alacrity, that before the travel editor had dared emerge from under his desk, I was most of the way to Taupo, eyes peeled for sightings of Brangelina.
Huka Lodge is the favoured retreat of moguls, money-men and media-shy celebs (everyone from Bill Gates to Pink Floyd).
They're drawn possibly by the lodge's exceptional setting: seven hectares of park-like grounds alongside the Waikato River opposite the Huka Falls, now carefully manicured into infinitely charming inglenooks and scenic vistas. Besides that undeniable aesthetic appeal (and being ideally placed for fishing and the like, as well as a mere helicopter hop from local beauty spots) crucially also the water on one side and the fence on the other (distant and discretely veiled by greenery as it is) mean the lodge seems terribly private, a retreat in every sense of the word.
Driving down the sweeping driveway I instantly felt sheltered from the usual nuisances of day-to-day life. Indeed I quickly got the idea if there was anything I didn't want to deal with (unpacking, laundry, paparazzi), then staff were on hand to deal with it (and often bring me a drink too).
While the entire lodge feels private, the Owner's Cottage, where we stayed, gives the impression of being a completely enclosed world. It's the "cottage" in the sense that Huka itself is the "fishing lodge" (which is what the lodge started out as). It offers four double rooms, each with palatial dressing rooms, ensuites and outdoor area.
A living area opens out to a private cantilevered infinity pool where you can watch the falls (a lower deck has a private spa, also with views down to the river). There is a full kitchen and a den with a gigantic plasma TV hidden artfully behind a painting, and a complete computer suite equally discretely placed in a hand-carved sideboard.
Finally, there's two adjunct smaller cottages for my "staff" of nannies and bodyguards, who, alas, I'd forgotten to bring. It feels like some rich, tasteful relative's home (if only I had such a thing), objets d'art disport themselves tastefully on various surfaces and there's work by Max Gimblet, Don Binney, Dick Frizzell and the like on the walls.
You could, if you wanted, never leave the cottage (a chef could be sent over to prepare the evening meal in our kitchen or serve us breakfast on our private terrace) but after mere hours and hours and hours we tired of these luxurious environs and headed to the lodge itself.
The main building (other guests stay in villas built in groups of one or two along the river) still has a touch of "fishing lodge" ambience, albeit in a very posh way. There's roaring fires, a library with leatherbound fishing tomes, a vaunted wine cellar and a trophy room ringed with the surprised looking heads of various wild animals.
The guests who hadn't opted to dine privately (you can choose to eat in the library, the trophy room, the wine cellar, the riverbank ... anywhere you like) gathered in the Dining Room for a simple five-course meal washed down with a cheeky vino bottled under Huka Lodge's own label. No sign of Brangelina but I guess you can't have everything.
* Huka Lodge is three hours' drive south of Auckland and just a few minutes from Taupo, opposite Huka Falls. Rooms vary between $600 and $2000 a night (plus gst). The Owner's Cottage for two guests varies between $2600 and $6710 (plus gst) a night depending on season. Go to www.hukalodge.com (link at foot of page)
* * *
Kauri Cliffs
The term luxury means different things to different people. A holiday in Saint Tropez; an annual trip to the Australian GP; a dozen Lion Red. But in New Zealand, one of the ultimate indulgences has to be staying at Kauri Cliffs lodge.
Just under four hours' drive north of Auckland in Matauri Bay, Northland, the lodge is also home to a stunning golf course where US Open champion Michael Campbell is the tour professional.
The anticipation on your arrival is heightened by the location. Secreted off Matauri Bay Rd, you drive through the Southfork-style gate and down a private gravel track to the lodge. It overlooks the Pacific Ocean and Pink Beach, one of three private beaches the property boasts.
The lodge has 11 outlying guest cottages, each with two guest suites.
I'm not one for being waited on hand and foot but if you require anything, it can, and will, be done. When I reported a lost car key, walkie talkies were employed and there was a red alert. It was in my shoe in the room but the staff were still patient and understanding. I was just testing, of course.
The cabins are set less than a minute's walk from the lodge in Twin Peak-ish forest. And then there's the suite itself. A massive bathroom has a deep bath and separate shower. The super-king-size bed was heavenly with limited-edition prints on the wall (local artists' work adorns the lodge also) and TV/DVD, Sky TV and a CD player are standard. The balcony overlooks the golf course and the Pacific Ocean.
If you venture out from the lodge, there are numerous local attractions: Three private beaches are easily accessible - Pink Beach, Waiaua Beach and Little Takou Bay, and Matauri Bay is a 15-minute drive away. In the summer months you can order a specially-prepared picnic, at $40 per person.
With the kauri trees on the estate, you can taste the flavours of New Zealand, although there is a strong American theme (the lodge was the brainchild of New York businessman Julian Robertson and his wife Josie). An internet version of the New York Times is placed at your door every morning and the guests' voices certainly had an American lilt.
Surprisingly, only around 30 per cent of guests actually visit for the world-class golf course. That's because they fall in love with the smoked duck breast, snapper with Abalone tempura and Caramel Creme De Pots; with the outdoor infinity pool; with the two perfectly maintained, guarded tennis courts; with the outstanding service; and the views to die for.
Kauri Cliffs has received many recommendations from publications and travel websites. It's a once-in-a-lifetime experience.
* Kauri Cliffs is off Matauri Bay Rd, Northland. Peak season costs $1350 (plus gst) for a single suite and $840 (plus gst) per person for a double. Prices increase if you go deluxe. The lodge runs a Winter Golf Special (May 1-31 and July 1-September 30) which includes a day of unlimited golf, accommodation, dinner and use of all facilities. It costs $550-$590 per person per night. For more details go to www.kauricliffs.com (link at foot of page)
* * *
Wharekauhau
Three seats down, a blonde American who could be Sharon Stone's more botoxed sister is flirting with an oil magnate. The lights are low and we're dining on seared ostrich fillet and magnificent foie gras tortellini. If this were a film, you'd hear subtle strings and delicate piano tinklings.
But despite the accents at the table, this isn't Hollywood. It's the rural South Wairarapa retreat of Wharekauhau, and our musical accompaniment - soulful reggae by Wellington trio Trinity Roots - is in perfect congruity with the estate's bucolic beauty. Catering primarily to an international clientele, Wharekauhau is not cheap - up to $5775 per night for the Chateau Wellington - but the true attraction, the location, is incomparable.
There's archery, tennis, clay target shooting, a quad bike safari, horse treks along black sand beaches, a full gym and an indoor pool. For leisure at a more sedate pace, there's petanque or croquet, nearby vineyards, or treatment at the spa.
Opened as a sheep station in the 1840s, the 202ha estate of rolling pasture and forest is still a working farm. Most guests chopper in but we braved the nerve-wracking 90-minute drive over the Rimutakas from the capital.
"I promise there's an ocean out there," reassured our American host, Kristy de Lange, as her South African husband Nico valeted our car. Even without the ocean, the elegant sitting rooms of the Edwardian country manor were impressive.
The evening banquet was a communal affair with wealthy US lawyers and oil industry types, a Canadian mother and daughter en route to Sydney and the Kansas City blonde with her Dutch husband.
Mains were generous portions of vanilla nut-crusted warehou with kumara and then the slightly sinewy ostrich. Dessert was Valrhona chocolate mousse, chased by a gorgeously creamy, virtually liquid Kapiti cheese.
We retired to our discreet cottage in a grove of pohutukawa and cabbage trees. It was serious comfort: marble floors, plush couches and a four-poster bed draped in cotton sheets with a thread count that left my girlfriend agog.
In the morning, we drew back the curtains to an oil-painting view - pukekos pecking on a daisy-flecked lawn, the sheen of a flax-fringed pond, and beyond, the turquoise expanse of Palliser Bay.
Over breakfast, an American couple grumbled about the service. But returning to the cottage to take in the spectacular view before scouting the beach, we weren't about to sweat the small stuff.
* Wharekauhau Country Estate, Western Lake Rd, Palliser Bay, Featherston. Cottages range from $610 to $1525 (plus gst) per person per night (including meals), depending on the season. The chateau starts at $3275 (plus gst) per night.Go to www.wharekauhau.com (link below)
For help booking luxury accommodation or travel in New Zealand, try Luxury Adventures, 2 Tuarangi Rd, Grey Lynn, Auckland. Phone 09 361 3894. Go to www.luxuryadventures.co.nz (link below)
By
Jo McCarroll
, Alexander Bell, Patrick Crewdson, Antony Phillips
Copyright ©2016, NZME. Publishing Limited