Tsunami anniversary: Economies bounce back
6:40 PM Friday Dec 23, 2005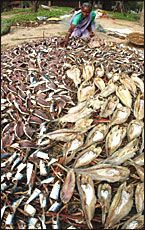 The fish catch is slowly returning to pre-tsunami levels. Picture / Reuters
The economies of tsunami-hit countries are recovering from the disaster more quickly than expected, says a report.
The relief agency Oxfam said almost two-thirds of the people who lost their jobs as a result of the tragedy were already back in work.
The charity said the huge public response to the tsunami had prevented millions of people falling into poverty in the past year.
The Boxing Day disaster killed more than 230,000 people and left a further 1.6 million homeless.
At the time, aid agencies warned that the scale of the damage to the economies of some countries was so great that two million people were in danger of being pushed into poverty.
One million jobs were lost and 64,000ha of agricultural land were damaged or contaminated by flooding.
In Aceh, Indonesia, unemployment rocketed from 7 per cent to 33 per cent, and the jobless rate in some districts of Sri Lanka doubled to one in five of the population.
The worst-affected livelihoods were fishing, small-scale farming, labouring work and tourism.
Charities spent months rebuilding boats, desalinating land and retraining small communities in new trades and crafts to enable them to become sustainable.
The Oxfam analysis on the progress of the aid effort found that, as the first anniversary of the tsunami approached, 60 per cent of people who lost their jobs now had work.
The fish catch in Sri Lanka, which fell by 95 per cent, is back up to 70 per cent of its previous level.
Almost 70 per cent of the fishing boats that were destroyed or damaged in Aceh have been repaired or replaced.
Barbara Stocking, director of Oxfam, said: "One year after the tsunami we are seeing an impressive recovery.
"Getting people back to work, as well as giving them an income and some control of their future, has been critical in helping them deal with the trauma of what happened.
"Of course there is still more to do and real difficulties remain, but we are well on the road to recovery."
She said: "The public's generous response and the resilience of local people has made the rebuilding of people's livelihoods one of the most impressive aspects of the entire aid operation."
In the first nine months after the tsunami, Oxfam spent 15 million ($38.6 million) on projects designed to help people back into work.
Although some reports have criticised the way in which aid was distributed after the disaster, the Oxfam analysis highlighted the success of long-term projects in the worst-hit countries.
It estimated it would be five years at least for the soil in some countries to return to full productivity.
About 1.4 million people were pushed over the poverty line by the tsunami, but economists believe 70 per cent of them will be restored to their previous status by 2007.
- INDEPENDENT
Copyright ©2015, NZME. Publishing Limited