Chief outlines 'major problem' at TVNZ
3:54 PM Tuesday Dec 13, 2005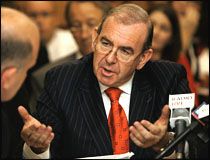 A memo from TVNZ's outgoing chief executive Ian Fraser, who last week faced questions in Parliament, has been leaked. Picture / Mark Mitchell
TVNZ's outgoing chief executive Ian Fraser has told the State broadcaster's board that the network is facing major problems balancing commercial pressures with its charter obligations.
He said the programming schedule was "profoundly incompatible with any recognisable model of public broadcasting" and warned it is likely to have to "can" charter programmes if not enough viewers want to watch them.
Mr Fraser's October memo to the TVNZ board, obtained by Green Party broadcasting spokeswoman Sue Kedgley, details three options for improving TVNZ's two channels.
Mr Fraser says in its current state, TVNZ has grave difficulties. "We have a major commercial problem with (TV) One," he wrote.
"We are faced with the commercial reality of having to can such charter initiatives or consigning charter programmes to inhospitable places in the schedule unless they are 'sure bets'."
Ms Kedgley said: "This memo shows that the man who was at the helm of TVNZ believed that its current mixed model is failing to deliver on its Charter goals because they are essentially incompatible with its commercial priorities.
"Fraser says 'the texture of our schedule is profoundly incompatible with any recognisable model of public broadcasting' and warns that the organisation has 'made a u-turn' away from its public service television mandate and is becoming almost totally focused on commercial objectives.
"Ian Fraser's bombshell suggests it's time to acknowledge that the present split focus of TVNZ has failed to deliver public service television and to begin a fundamental review of its mandate and direction."
Mr Fraser's memo proposed three options for restructuring TVNZ to better deliver public service television, the Greens said.
These were:
* Making TV One a fully funded, non-commercial public broadcaster entirely charged with delivering Charter values
* Making TV One a semi-commercial broadcaster screening no more than six minutes of advertisements an hour
* Adding two new public service digital channels.
"I hope the Government, and Parliament, will seriously review the three models Mr Fraser has proposed for restructuring TVNZ to give it a genuine public service emphasis - in particular his proposal to convert TV One into a non-commercial public service broadcaster," Ms Kedgley added.
"With 13-14 minutes of advertising every hour, and a minority of New Zealand programmes screening on both channels, it is hard for viewers to accept that TVNZ is public service television."
Acting Prime Minister Michael Cullen today said he was not considering any changes to TVNZ's structure.
The content that TVNZ was broadcasting was an issue Broadcasting Minister Steve Maharey and the board would want to discuss.
"I don't see that as a problem with the charter per se," Dr Cullen told reporters.
"I think it is very hard to say that necessarily what is shown on TVNZ is a consequence of the charter or not at the present time."
Dr Cullen said it might be difficult for a nation of 4 million people, which now had more than 50 television channels available, to be able to afford a free-to-air non-commercial television channel.
- NZPA, HERALD ONLINE STAFF
Copyright ©2015, NZME. Publishing Limited