British MPs take Da Vinci Code, Harry Potter to beach
5:54 PM Monday Aug 22, 2005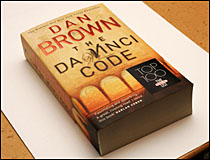 The Da Vinci Code is a popular choice for politicians.
LONDON - "The Da Vinci Code" and the latest Harry Potter novel are among the most popular books for British politicians to take on holiday this summer, according to a survey released on Monday.
US author Dan Brown's mystery thriller, being made into a film starring Tom Hanks, was top of the list of holiday reading for members of parliament. In second place was a biography of William Pitt the Younger, the youngest prime minister in British history, written by former Conservative leader William Hague.
J.K. Rowling's "Harry Potter and the Half-Blood Prince" was third, according to the annual survey of politicians' reading habits by CommunicateResearch.
Members of the House of Lords appeared less keen to take a break from politics, the survey found.
Hague's "Pitt the Younger" was their top choice for summer reading, followed by a biography of Mao Zedong by Jung Chang and Jon Halliday, and a biography of Winston Churchill by Roy Jenkins.
The survey was conducted among 153 politicians in the House of Commons and 100 in the House of Lords.
Biographies of Prime Minister Tony Blair and former Prime Minister Margaret Thatcher were also accompanying some members of parliament to the beach this summer, the survey showed.
But a quarter of MPs and one in five peers said they probably or definitely would not have time to read their books.
- REUTERS
Copyright ©2016, NZME. Publishing Limited