Internet sleuths crack art puzzle
By Peter Nowak
11:26 PM Friday Jul 29, 2005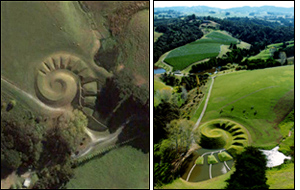 The Rodney sculpture as captured by satellite camera and seen through the Google's Earth software program (L) and Virginia King's photograph of her farmland sculpture(R).
The satellite image revealed an unusual spiral.
The internet surfers peered closer, locating the curling design on a Rodney farm.
It prompted Dane Hawker, a greenkeeper at the North Shore Golf Club, to take a look himself using Google Earth, a piece of software run on the Google search engine.
A quick download later, he was looking at satellite photos of Kawau Bay - where he goes spearfishing - and the bizarre spiral.
It was big, green and resembled a giant snail shell.
"I couldn't quite work out what it was," Mr Hawker said, but some online questions solved the mystery. He also posted queries on a Google Earth message board to see if anybody could decipher the shape.
Arne Moslatten, in Norway, figured it had to be an artwork.
"It was too elaborate, big and aesthetic to be just some crazy farmer's idea," he said.
He googled words such as shrimp, lobster tail and spiral, and eventually "fern" and "koru" came up. He then tried "koru" and "art" together and solved the mystery.
The shape was an artwork by Auckland artist Virginia King.
The spiral, measuring about 80m across and 10m high, is a sculpture made of clay and covered by grass, and is intended to look like a koru.
It sits on farmland near Snells Beach, about 15km from Warkworth, on what was once a kauri forest.
King said the idea of it was "about the healing of the land".
She built the sculpture over three weeks in late 2001 after an invitation from the farm's owners, who did not want to be named.
King said that since the koru was on private land, it was generally not accessible for viewing by the public, although the farm-owners did note more helicopters flying over.
But Google seems to be changing that inaccessibility. The United States search engine giant has been churning out new technologies since it went public last year, the latest - released last month - and most impressive of which is Google Earth.
The software is video-game-like in that it integrates satellite photos and maps with video-streaming technology, creating a three-dimensional digital model of the entire planet.
Users can view the planet from way up in space, or zoom in to take a closer look at specific parts - such as Moscow's Red Square, or the Statue of Liberty, or even King's sculpture. By clicking and dragging with the mouse, the user can pan around the map/photos at will - the resulting effect is not unlike flying.
The detail of the photos, at least for North America and other highly populated areas of the world, is astounding, with individual buildings discernible at close zoom.
In this neck of the woods, the detail isn't as good yet - Auckland's waterfront, for example, is crystal clear, but tellingly, most of the city seems to be caught under a rain cloud. Google says improvements are coming soon.
The program is free but somewhat demanding, requiring a high-speed internet connection and a relatively new computer to run.
Google Maps is a lower-tech online alternative that doesn't require a download, also uses maps and satellite photos, and is only slightly less astounding than the Earth program.
A few months ago, King's friends were wondering if her sculpture could be seen from space. A short time later, they had their answer.
"Isn't the net wonderful?" King said. "It has layers of being terrifying and wonderful at the same time."
By Peter Nowak
Copyright ©2016, NZME. Publishing Limited