Guess Who's back battling a big blob
4:54 PM Wednesday Jul 13, 2005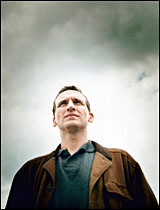 Clouds gather for Doctor Who (Christopher Ecclestone).
Deep in the subconscious I always knew that the X Files theme was reminiscent of some other, creepy, alien-obsessed show. The revival of Doctor Who (Prime, 7.30pm) confirmed that Fox, Scully and co didn't get that introductory eerie whistling from just any old galaxy.
As soon as the old, piercing theme tune sounded, it all came flooding back: the wacky Time Lord, the weird, inversely capacious Tardis with its Cold War-style engineering, dear old London at the mercy of the dumpy Daleks yelling "Exterminate, exterminate".
Back then the good doctor didn't allow bogus salt-cellars or any other condiment containers on steroids to get away with being so uppity, and hopefully the same applies today.
However, it took the doctor and his fetching new assistant, Rose, most of the episode to really start putting the boot into the "plastic fantastic" people menacing Earth.
Perhaps it was because in this age of exfoliators, lip gloss and cosmetic surgeries, they were rather hard to distinguish from the general populace.
The invaders weren't the types to care much about issues like the Kyoto protocol - they chose Earth precisely for its environmental problems and promising surfeit of plastic products such as shop mannequins to be powered up into killers by the ubervillain - a big blob sitting in a vat under the Millennium Eye.
It was up to the Time Lord and Rose to stop the blob alerting all Earthly plastics to their true, environmentally destructive potential.
The invasion started with high street clothing chain dummies going on a rampage. Fair enough. If aliens are going to rule the world then - sorry, Daleks - we expect them to be well-dressed.
The special effects may be marginally more sophisticated than the original show but the acting isn't. Most of the episode we got to watch Billie Piper chewing on her lower lip as she tracked down the mysterious doctor who had saved her from those killer mannequins.
The lip-sucking continued as she tried to decide between a council estate future on the dole with a no-prospects boyfriend or a career gallivanting through time and space - choice of stop-offs anywhere in the universe.
Perhaps it's the Doctor's return just as London gets hit by a real terror attack that makes the whole thing seem awfully silly. The Time Lord's timing needs work.
But there were highlights, chief among them the mannequins' attack on Rose's mother. It was probably her pastel velour track pants they were taking exception to.
Still, the plastic nasties showed Doctor Who will never be beaten when it comes to wonderfully inventive and hokey-looking aliens. Only the mad Brits would come up with a Mr Blobby master of the universe.
It's enough to make you take a whole new look at your relationship with your microwaveable inorganic compounds.
Copyright ©2016, NZME. Publishing Limited