National would be tougher on apple dispute, says Brash
10:31 AM Thursday Jun 23, 2005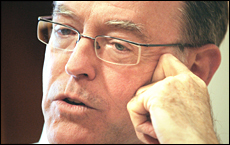 Don Brash
The National Party says it would invoke the World Trade Organisation dispute resolution process over Australia's refusal to take New Zealand apples.
Yesterday hundreds of apple growers marched to Parliament protesting Australia's position.
Pipfruit growers have been urging the Government to take a case against Australia to the WTO.
Australia has barred New Zealand apples since 1921 because of fears the disease fireblight would be transmitted to its trees. However the WTO's appellate body has previously ruled that the chances of mature apples carrying fireblight was negligible.
The Government has listed a complaint about the Australian trade barrier with a phytosanitary (plant health) committee due to meet at the WTO next week.
But National Leader Don Brash said he would start the more serious dispute resolution process if National were Government.
"Labour should have taken action to resolve this dispute years ago through the WTO's dispute settlement procedure," Dr Brash said.
Dr Brash said taking the problem to the committee was a "joke" and an election year sop to the industry.
"This is an intractable dispute. There have been endless years of discussion on it, and simply initiating further discussion at the WTO is a wimpish response," he said.
Yesterday Government MP Phil Goff, filling in for Trade Negotiations Minister Jim Sutton, told the growers that Australia would be embarrassed by having to explain to the committee on June 30 why it had dragged out consideration of the import application NZ made in 1999.
Mr Goff said that if no progress was made at the WTO phytosanitary committee, a full dispute procedure was an option.
But he said that process could take up to three years, and it would be quicker to have Australia "do the right thing" by acting on the science which showed fireblight was not spread by clean ripe apples.
"We may... get quicker progress than this with the WTO compliance panel report on the US-Japan apples dispute case due this Friday," Mr Goff said.
Australian High Commissioner Allan Hawke told growers he understood their frustration.
Dr Hawke said the re-structured Biosecurity Australia quarantine authority was taking time to re-issue its import risk assessment for NZ pipfruit because of the large volume of over 200 submissions which had been received on the previous draft assessment that recommended allowing Kiwi apples across the Tasman.
Australian Apple Access Group spokesman Phil Alison said the Australian bans were costing New Zealand growers between $20 million and $40 million a year.
He urged New Zealand consumers not to buy Australian fresh fruit and vegetables until NZ apples were accepted.
- NZPA
Copyright ©2015, NZME. Publishing Limited