Ray of sunshine
2:36 PM Friday Jun 10, 2005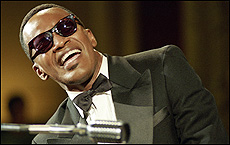 Jamie Foxx captured the charisma and complexity of Ray Charles.
Ray Charles died a year ago today. But with the Grammy-winning success of the biopic Ray (best picture and best actor) plus sales of the soundtrack and his final album Genius Loves Company it's as if he is still here.
Charles' remarkable life - and his candid autobiography Brother Ray - always had the makings of a great movie, yet the way Jamie Foxx inhabited the man exceeded expectations.
Foxx had the advantage of Charles being around so he could study his character, but even so he and director Taylor Hackford got inside a complex character and a remarkably diverse life-story.
Consider how far apart these dots are: poor boy from Georgia loses his sight, plays piano in bars and clubs across America, controversially marries gospel and r'n'b, turns white country music into crossover hits, becomes a legend and is invited to the White House seven times under seven different presidents.
That's one helluva story without even adding that as a child he saw his brother drown, and that he was a longtime junkie, serial womaniser, and an often ruthless businessman. And that his artistic power allowed him to redefine - for himself if no one else - how recording contracts could be drawn up.
Hackford's movie and Foxx's exceptional performance managed to distil all that into a coherent, evocative narrative which also offer glimpses into life on the road, the atmosphere of recording studios and the music business, and Charles' often troubled personal life.
Ray, released in an expanded double-disc DVD on Wednesday, is a cinematic invention of that life - some of the incidents obviously didn't happen this way - but it aims for a gritty realism that most musical biopics usually avoid.
The first disc offers the film in two versions, the theatrical release (Hackford's commentary is optional) and an irritating expanded edition with deleted scenes inserted. Scenes are interrupted by the extra material before flicking back to the start. If you want to see the extra footage it's better to check it out on the second disc.
There are some telling scenes lost: when Charles is invited to Alabama by Governor Jimmy Davis he heads to the bathroom at the airport for a fix. The scene illuminates his self-destructive nature and wilful belief he was untouchable, and how friend and road manager Jeff Brown risked so much to look after his boss. It makes the subsequent falling out between the two more poignant (and Charles an even more ruthless bastard).
Elsewhere on the second disc are interviews with Foxx, behind-the-scenes footage, and tributes from Quincy Jones, soul legend Al Green and country superstar Reba McEntire. The diversity of those people illustrates the breadth of Charles' musical influence.
So Ray Charles is gone. But the great ones never really die.
Ray, thanks in part to Ray, won't.
Copyright ©2016, NZME. Publishing Limited