Fab Wiggles four chugga into town
10:28 PM Thursday Jun 9, 2005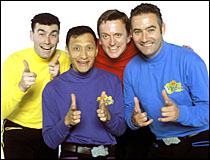 "We're not trying to fool anyone, we actually do enjoy it" says Murray Cook (second from right).
Getting to know a Wiggles song is like riding a bike - once you know, you never forget. Perhaps that explains why the Aussie children's entertainers are still touring the world after 14 years together, why this year they topped Australia's entertainment rich list (at $48 million) ahead of Nicole Kidman and Russell Crowe, and why you know the line "Toot toot, chugga chugga, big red car" even though you don't have kids.
"We hear that from parents quite often, that they're driven crazy by the songs," says Red Wiggle, Murray Cook. "But we've got to a certain point where they stop going around our heads."
On Saturday, the singing foursome return to Auckland with their bright skivvies and unwavering enthusiasm to perform their latest interactive stage show, Live Hot Potatoes.
If that doesn't satisfy the littlies' demands, go online afterwards and pick up a Wiggles DVD, jigsaw, lunchbox, cookie cutter, sleeping bag, backpack, or musical hand puppet.
Next month the fab four - Cook, Jeff Fatt, Anthony Field and Greg Page, and their troupe of kooky animal characters and dancers will tour Britain, then it's off to the United States, where they make most of their money, spending about three months of the year on tour.
"It's funny, people quite often refer to us as an empire but we don't really think about it like that," says Cook. "I suppose from the outside it does seem like that but we are really hands on. It's something we've built up from nothing. We didn't really set out to have a career, we just thought we had a one-off CD."
The Wiggles met at university where Cook, Page and Field were studying to be pre-school teachers, and "gravitated" towards each other because there were only about six men in a sea of 500 students.
They began writing children's songs as one of their music projects, and enlisted the help of Fatt, who played with Field in 80s band the Cockroaches.
They started small: shows at pre-schools, childcare centres and birthday parties, and took their finished tape to ABC Music, which released a self-titled album in 1991. When The Wiggles went platinum, the Wiggles went international, touring New Zealand, Asia, and America, starting small in each territory.
"We did the show in LA in a Blockbuster carpark and we had four people there. The next time we went back we played the Universal amphitheatre to 5000 people. That was over a couple of years."
Cook says it was the experiences of Field and Fatt in the Cockroaches that helped to ease the transition into the limelight "because they made some mistakes during their career that they didn't want to make again".
Unlike the Cockroaches, the Wiggles were determined to keep control of their product "even down to our management. We employ them, it's our company, the four of us run it and it's great to be able to do that. Any mistakes have been our mistakes.
"When we started touring, it was just the four of us in a van with a trailer on the back. We would get in the character suits and pack up the equipment afterwards. Geoff used to sell cassettes and T-shirts after the show out of the boot of the car. When the merchandising side of things developed, we were approached by an agent."
He laughs when he goes into the office now because there always seems to be someone new but he estimates there are only about 30-40 people who work for the Wiggles brand around the world.
Cook also insists they are responsible merchandisers and won't put their name to confectionery "because parents have enough pressure on them without us pushing it as well".
So what is the secret to their success? Partly it's their renewable audience - an audience unlikely to be swayed by trends. But Cook says their philosophy has been to observe what children want, what they're interested in, how they talk and think.
"Without studies we probably couldn't have been as successful. The songs are catchy, we're a bit silly and the kids like that. We're not trying to fool anyone, we actually do enjoy it. And we have a chemistry between us because we were friends before. You can't replicate that combination."
Although you would be hard-pressed to find criticism of the group, a few years ago an article appeared in a Sydney newspaper, questioning the lack of female characters.
"We had no idea when we did the first album we'd be around another year, let alone 14. So it's not like we sat in a boardroom and said we'll create something for children and we'll have these four guys.
"Probably if we had, we would have had at least one female. But young children do get a lot of female contact - from their mums, from childcare - so I think sometimes it's not bad for children to see males involved in working with children."
The success has meant they can now live comfortable lives, but Cook says most of the profit goes back into the business.
"We live in reasonably modest houses, we don't live down on the harbour. Three of us are family men, too, so we spend it on our children's future, on their education.
"We're always trying to think of things to do, it's just been a great adventure. Sometimes it's a bit of an artificial world, when you're on tour, on a tour bus, it's not like a normal life. But I think we'd all get a bit bored if we retired. It's always a challenge. It's a great life."
Performance

*Who: The Wiggles
*Where and when: Civic, Saturday, 10am and 12.30pm
Copyright ©2015, NZME. Publishing Limited