NZ brain drug gets fast-track testing
7:26 AM Tuesday Jun 7, 2005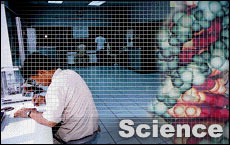 A New Zealand-developed drug that reduces the number of brain cells dying after injury has been fast-tracked through trials, meaning it could be on the market two years earlier than planned.
The drug, which is being developed in Auckland by Neuren Pharmaceuticals, could help hundreds of thousands of people who have suffered brain damage through road accidents, strokes and heart attacks.
The United States Food and Drug Administration (FDA) yesterday told Neuren it could proceed to phase III testing - the final stage before releasing the drug glypromate to the market - by 2006.
The move saves Neuren the $6.5 million cost of setting up and running phase II trials.
Reaction to the announcement pushed the company's shares up 25 per cent on the Australian Stock Exchange yesterday.
Neuren chief executive David Clarke said it was the first time an Australasian pharmaceutical company had been given FDA permission to skip phase II testing.
"It does happen in the United States, but in terms of our contacts in Australasia it has never happened," he said.
"It's not common, but it does happen."
The trials have so far targeted people with some loss of brain function after open-heart surgery.
Every year one million of these procedures are performed worldwide and up to 70 per cent of patients leave hospital with a degree of brain damage.
This can happen during surgery when the blood is being circulated through the heart by pumps, rather than the body's own arteries.
No matter how careful and sterile the surgery is, some "matter" can get into the bloodstream and cause stroke-like brain damage.
At present there is no drug approved to help treat this condition.
The glypromate trials have been done on open-heart surgery patients because such a high number suffer some brain injury and because they can be measured before the operation and again after surgery.
Tests on animals have shown that glypromate, which occurs naturally in the brain, produces impressive brain repair in rats if injected within hours after heart attacks.
Neuren's chief scientific officer is Dr Peter Gluckman. He also heads the Liggins Institute at the University of Auckland, where the research and development of glypromate is ongoing.
Dr Gluckman's group was among the first to realise that some brain cells took hours, or even days, to die after an injury, and made the surprising discovery that cooling the brain could reduce cell death.
This led to a search for natural growth factors that could be injected into the brain to stop cell death.
One of these, glypromate, has since been tested on healthy volunteers in Adelaide.
Neuren must still complete a small phase IIa safety trial, but can skip the longer and costlier phase IIb.
The company was formed by the merger of NeuronZ and EndocrinZ in January last year.
The two companies were founded in 1995 and 2002, respectively, as for-profit spinoffs by Auckland University.
Most of Neuren's 20 employees and consultants are based in Auckland, although it also runs offices in Australia and the United States.
Copyright ©2015, NZME. Publishing Limited