Health bar bursting with goodness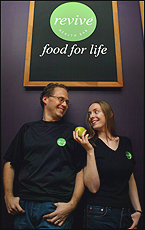 Jeremy and Verity Dixon often found they were still hungry after eating vegetarian food. Pictures / Carolyn Robertson
A committed vegetarian with a passion for healthy food, Jeremy Dixon had always dreamed of opening a cafe with a difference.
It was a visit to a Queensland health retreat with wife Verity that made him realise the time was right.
At Living Valley Springs retreat they did the usual cleanses and exercises and fasts and also made what Dixon calls a few simple changes that transformed their lives.
"It was nothing flash," he says. "It was just eating really good, healthy, fresh food, getting more exercise, drinking lots of water, all that sort of thing. It definitely wasn't rocket science."
But what the couple did find incredible was the major effect such small changes had on their general wellbeing and their energy levels.
"It's amazing how even just drinking lots more water can take you from feeling blurry to alert," says Dixon.
Returning home, the couple found it hard to keep eating in the way they now wanted to. They loved eating out but when they found vegetarian options, they'd often come out feeling hungry.
As their website says: "The main reason for this is that these meal options lacked complete protein. To get a complete protein you need to have a complete line up of amino acids - which can be found in the combination of any two of the following: whole grains ( brown rice, wholemeal bread), legumes ( beans) and nuts and seeds.
"Most restaurants do not know this and their definition of vegetarian is usually pasta, salad or roast vegetables."
So at this stage the pair began to use their newfound vitality to make their dream of a health-food cafe a reality.
Dixon quit his day job and in February, Revive Health Bar opened in central Auckland.
He'd never been involved in the restaurant trade before and like any small business owner, he had to grapple with accounting, taxation and staffing. Rather than doing any of the cooking himself, he employed a chef to come up with those healthy-but-tasty alternative recipes.
Revive has already attracted a regular clientele of similarly minded healthy eaters.
Dixon thinks it can only get better as more people begin to understand how eating well positively affects their lives.
It's true Revive's customers seem part of a growing sector of society. Just look at all the burger chains adding deli choices and salads to their menus as they respond to consumer desire for healthy choices on the drive-through menu.
Dixon says, "There's a lot of tokenism around but something is better than nothing."
And although the Dixons have been known to occasionally indulge in the odd spot of deep-fried chips, the food served at Revive is far from just a nod at healthy eating.
For instance, the food policy says they won't use white flour - only wholemeal; they use honey not sugar to sweeten; free-range, organic eggs; and they're careful about the oils they use, keeping deep-frying to a minimum.
And despite the fact that, for many cafes, serving coffee is one of the biggest moneymakers, they've also decided against serving coffee or any caffeinated beverages because of the negative effects it can have on the body.
"We're not perfect and we're not health nuts," says Dixon, who has eventual plans for cooking classes, office deliveries and maybe, in the future, even more Revive bars.
"There's no point in going too crazy because the main thing is to take a balanced approach to food.
"And I think a lot of people are concerned about eating well - it's just that often it's too hard.
"Or they think they'll do it later. Or that it won't taste good. So if we can make it easier for them, then that's great."
Revive is at 16 Fort Street, City, ph (09) 307 1586
Copyright ©2013, APN Holdings NZ Limited