Iron man of the laundry
1:07 PM Thursday Jun 2, 2005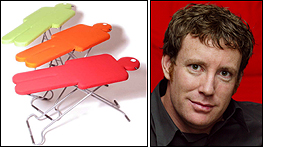 Shane Inder went outside the brief to design his Ironman ironing board and hit on a winner.
Shane Inder is keen on taking the drudgery out of boring old housework. His Ironman ironing board, the shape of a broad-chested man with a hole in his head for the cord to go through, is not your bog-standard variety found in laundries the world over.
The idea came to him as a product-design student at Unitec. "The whole class was asked to design an ironing board for the Warehouse-type market. I kind of went outside the brief a little," he says.
They are now stocked by gift stores and design centres such as Living & Giving and Eon Design Centre, and sell for $199.95.
During his research he found it wasn't ironing boards people loathed but the ironing task.
"I wanted to put a bit of fun into it. They're usually seen as a utilitarian item but now, with the Ironman, they are being seen as gifts. I think it's pretty much on all the wedding lists at Living & Giving."
Just because they have become aesthetic objects doesn't mean they have become less practical than ordinary ironing boards.
"Personally, I'm a shocking ironer but I'm a whole lot better with the Ironman. I can iron a shirt in no time now."
As a graduate product-design student doing a masters degree, he is still concentrating on designing products for the wannabe domestic goddess.
"I've come up with an interesting rubbish bin and I have a clothes-drying rack, which is another of those objects ripe for the plucking.
"The biggest market is for these fundamental household things. Everyone needs a clothes-drying rack."
10 FAVOURITE THINGS
1. Coffee that gets the heart racing and the hands shaking. My cappuccino machine gets a lot of use.
2. Mission Bay - on the grass, Sunday arvo, with the paper and a coffee.
3. Eon Design Centre for quality New Zealand-designed furniture and products - and not just because they sell the Ironman.
4. www.trademe.co.nz - I'm sure I'm not the only one who's addicted. So many things I never knew I wanted.
5. Lost. It's an almost unpredictable TV show.
6. My cordless drill. It's a Bosch with heaps of power, which comes in handy for stirring cocktails. I love it.
7. The Britten motorcycle by late Christchurch engineering designer John Britten. Such innovation. He went from an idea to this amazing thing and took on the world with it.
8. The Ironman. I'd still love it even if I didn't design it.
9. I-pods. They're just cool.dummy text for placement
10. Bodypulse vibration training. This revolutionary activity builds muscle, improves circulation, and reduces fat, with minimal effort and it's fun.
Copyright ©2015, NZME. Publishing Limited