Microsoft's Matamata money man
By Ellen Read
1:10 AM Wednesday Apr 27, 2005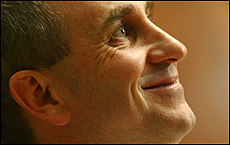 Chris Liddell gets his turn on the global stage with a job that has usually been filled by people from within Microsoft. Picture / Paul Estcourt
From Matamata to Microsoft. Chris Liddell's appointment to the number three job - chief financial officer - at Microsoft is a huge coup for the former head of Carter Holt Harvey and for New Zealand's business image.
Dr Liddell jumped hurdles including a 1 1/2-hour interview with Microsoft founder Bill Gates to grab one of the top jobs in United States business.
He begins his new position at the computer software giant on May 9.
"Obviously it's a great privilege for me personally but I'd rather stress that this is a great thing for a New Zealander," he said.
"We're doing great things on the world stage at the moment and I'm just really happy to feel like I fit into that pattern."
The public announcement of the appointment was a day late for Liddell's 48th birthday but "a nice Anzac Day present".
"I'm in business to really be involved in something like this," Liddell told the Business Herald from Connecticut.
"It's like a sportsman who's given the opportunity to play in the grand final on a global stage. It's scary, but it's what you spend your life working towards. It's 99 per cent exciting."
Liddell will be responsible for Microsoft's finances worldwide, including accounting and reporting, strategic planning and analysis, treasury, tax, audit and investor relations.
Microsoft has a market capitalisation of about US$280 billion ($384 billion) - swamping the value of New Zealand's economy which, measured by gross domestic product, is about $115 billion.
"Microsoft is one of, if not the, leading companies in the world in what it does," Liddell said, "and it has a huge amount of significance not just from a technology point of view but in terms of driving productivity and global growth.
"So learning about Microsoft and getting involved in helping shape the strategic agenda is one of the big excitements of the job."
As for Dr Liddell's salary - "it's not billions of dollars so you don't need to get too excited. It's a well paid, large corporate position over here but really it's the opportunity it brings me that's the big deal."
The salary is US$500,000 ($686,000) a year, with the chance to double that through bonuses.
He also receives a welcome package of 50,000 Microsoft shares - which were trading around US$25 each yesterday.
For the past two years, Liddell has been chief financial officer at the largest paper-maker in the US, International Paper.
He said the "swift but comprehensive" headhunting process spanned several weeks and 11 interviews, including the 90 minutes with Gates.
Liddell first met the mogul five years ago at a chief executives forum run by Microsoft in Seattle.
Microsoft chief executive Steve Ballmer - the man who rang Liddell with the job offer - said Liddell brought "great talent and skills in finance and in business leadership".
"Having been chief executive and chief financial officer of international companies gives him the ability to contribute broadly to our finance, operations and business strategy," Ballmer said.
Liddell said he would now have to learn about a whole new industry "but, in terms of the core skills of being a CFO, they're generic across any company. Ninety per cent-plus of what I'm going to be doing is similar from a skill basis".
Microsoft's fiscal 2005 sales growth will slow to the lowest pace ever amid project delays and rising competition, including from the Linux operating system and search engine Google.
Liddell is undeterred.
"I still think that technology is in its infancy as a change agent in the world," he said. "I don't think there is going to be any shortage of growth opportunities for the company for the next 100 years."
Of the task ahead for him, he said: "They've done a lot of good things on the finance side. My predecessor [John Connors] changed ... the capital structure so I need to get in and build on the things he did."
Microsoft pays slightly above average for its executive staff - but is not at the top of the list.
Liddell said money was not his motivation for taking the job.
He shrugged off Microsoft's reputation for being hard on outsiders.
Senior executives Rick Belluzzo, Maggie Wildertrotter and Richard Emerson left within three years or less.
Microsoft's three previous chief financial officers came from within the company.
"I know others have struggled and that's the nature probably in any large company - it has its own culture.
"But I found the people positive, optimistic, dynamic, smart and focused.
"I spent quite a lot of time with a number of the senior folk and I actually found the culture and the people in my mind to be very compatible."
He said Microsoft was attracted by his experience in different industries, in investment banking and in different countries.
His children's main concern to date has been whether they will get to meet Gates when they move to Seattle. Their father expects they will.
LIDDELL'S RISE TO TOP
Born in Matamata, Chris Liddell is an old boy of Mt Albert Grammar School and has an honours degree in engineering from the University of Auckland and a doctorate from Oxford.
He was a graduate engineer for Beca Carter in the late 1970s and did a short stint in the Army before joining investment bank and sharebroker CS First Boston as an analyst in 1984.
By 1992, he was managing director of investment banking and joint chief executive.
He became chief financial officer of forestry company Carter Holt Harvey in 1995, moved up to chief executive of wood products in 1998, and became company chief executive in 1999.
He left New Zealand in 2003 to become chief financial officer of International Paper in Stamford, Connecticut.
He and wife Bridget Wickham have been known for roles in groups seeking to bridge the divide between government and business, and Liddell remains on the board of the New Zealand Institute, a think-tank with a 25-strong board of business luminaries.
- additional reporting: agencies
By Ellen Read
Copyright ©2016, NZME. Publishing Limited