Conservationists in showdown with Canadian authorities
By Neil Sanderson
10:15 PM Wednesday Mar 30, 2005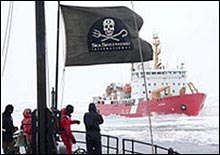 Conservationists keep an eye on a Canadian icebreaker which they accuse of trying to ram them. Picture / Sea Shepherd
Conservationists attempting to disrupt Canada's annual slaughter of seal pups claim their ship has been attacked by the Canadian Coast Guard.
The Sea Shepherd Conservation Society says its flagship Farley Mowat arrived yesterday in the killing area off Canada's east coast as the slaughter officially began.
At 12.40am today (NZT) Society president Paul Watson reported that the Canadian Coast Guard icebreaker Amundsen manoeuvred dangerously close to Farley Mowat and then attempted to ram it.
In an email from the ship, Watson said his crew had been documenting sealing violations by the crew of the sealing vessel Newfoundland Leader.
"At 0830 Hours (12.30am NZT), the Farley Mowat moved close to the sealing vessel Newfoundland Leader when the Canadian Coast Guard icebreaker Amundsen approached at high speed, running down seals in the ice. The icebreaker came straight towards the starboard bow of the Farley Mowat on a collision course.
"The Farley Mowat had to do a full reverse to avoid the collision. The incident was documented on numerous video cameras. The Amundsen continues to attempt to intimidate the Farley Mowat."
In a follow-up message sent at 1.50am, Watson said the Coast Guard was trying to board his ship.
"They have rigged a large cage on a derrick which it appears they intend to swing over the side with a boarding party. They also have a large chunk of metal on a wire rope attached to another derrick which appears to be a set-up for a wrecking ball.
"I have asked them to verify if we are in violation of any regulations. They have refused to answer. We have not been told we are under arrest and we have not been told that we breaking any regulations. They have been maneuvering dangerously close to the Farley Mowat and at points only a few feet have separated the two vessels."
Watson said the Farley Mowat was 6 nautical miles from the Magdalen Islands and surrounded by approximately 72 sealing vessel plus the icebreaker.
The Farley Mowat has a crew of twenty-five volunteers from seven countries.
Canada's Minister of Fisheries and Oceans, Geoff Regan, has defended the Government's plan to kill more than a million seals over three years, saying the animals "are killed quickly and according to strict regulations".
"Canada's seal-hunting methods have been studied and approved by the Royal Commission on Seals and Sealing, which found that the methods used in the seal hunt compare favourably to those used to hunt other wild animals, and those used to slaughter domestic animals - like cattle and poultry - for human consumption."
Regan said some organisations were seeking "to damage a legitimate Canadian activity and Canada's reputation abroad in public-relations campaigns in order to raise money for their organisations".
Watson has been opposing the seal kill since 1976. His methods have included petitioning the government; spraying seal pups with harmless red dye – to render their pelts commercially useless; blockading sealing vessels in the harbour; physically placing ourselves in between the sealers and defenceless seals; and bringing celebrity attention to the issue.
By Neil Sanderson
Copyright ©2016, NZME. Publishing Limited