Rating: 4/5
Verdict: Solid performances and a sassy script make this more interesting than your average predictable love story.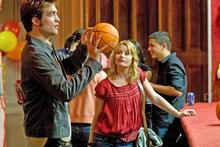 Twilight star Robert Pattinson proves he's more than just every teenage girl's favourite vampire with an intense performance in this smart and engaging romantic drama.
It's a touching love story full of sentiment, reminding us to make the most of every day and to treasure those we love - a theme hammered home by a startling, unexpected ending.
It's this twist for which Remember Me will mostly be talked about, regardless of whether you think it's a breathtaking addition or a cheap ploy. Before this blindside, however, there's an angst-filled young love affair to enjoy, largely thanks to the strong on-screen chemistry between Pattinson and Emilie de Ravin (Claire from Lost).
Without the pale complexion and red lipstick, it's easier to see why teens swoon over Pattinson. As Tyler, he's brooding, intelligent and sexy; a lost soul weighted down by the suicide of his older brother and a strained relationship with his wealthy father (Pierce Brosnan).
Living rough in a grotty New York apartment with his annoying but loyal best friend Aidan (Tate Ellington), Tyler spends his days working in a bookshop and keeping an eye on his little sister (Ruby Jerins). Essentially though he's just a lost soul trying to find some meaning in his life, often at the bottom of a beer bottle.
His saviour comes in the form of Ally (de Ravin), a young college student he asks out principally to annoy her cop father (Chris Cooper); a dubious beginning which will come back to haunt Tyler. The two fall in love, drawn together by the fact Ally too has suffered great tragedy. Apart from Aidan who just rambles in an attempt to lighten the mood, there's some nice, genuine scripting that offers somewhat more than the normal romantic film banter. Even when it does get a little cheesy, such as a water fight while washing the dishes on the second date, Ally's character acknowledges it, making the cliched scene forgivable.
The characters verge on being contrived, but Remember Me is, thankfully, grittier and more realistic than other romantic dramas (such as the adaptations of Nicholas Spark's novels The Notebook, Message in a Bottle, and Nights in Rodanthe), and while Pattinson will find his fanbase is still mostly made up of females, plenty of them will now be over 16.
Cast: Robert Pattinson, Emilie de Ravin
Director: Allen Coulter
Running time: 112 mins
Rating: M (Violence, Offensive Language & Sex Scenes)
By Francesca Rudkin

Email

Francesca