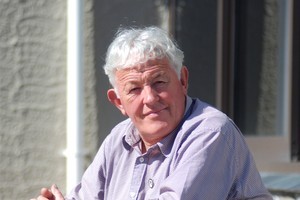 The last thing Bernie Monk wanted after his son's death in the Pike River mine was to get into a routine of avoiding people.
Running a popular West Coast hotel with his family, that had never been his style. So taking on the role of frontman for families who had also lost loved ones in the mine "in some ways helped me through the grief side of it".
"I didn't want to hide myself away. Some people try to avoid you over such tragedies, and I didn't want that to happen.
"And I didn't want the families to be forgotten about either."
After a series of explosions in the underground coal mine near Greymouth killed 29 miners - including his son Michael, 23 - Mr Monk became the dignified, accommodating public face of the grieving families.
It is his tireless performance in this role, while coping with his own personal tragedy, that makes him one of the finalists for the New Zealander of the Year award.
It became clear soon after the mine tragedy a year ago that most of the families had the same hope that Mr Monk did - seeing the mens' remains returned to the families.
"We had a good meeting one night and it was thrown at me 'would I mind being that [spokesman]'.
"And I didn't really think much about it. They needed someone, so that's how I arrived at the job really," Mr Monk said.
"To be honest I didn't think it would take up as much time as it has."
The chairman of the Pike River Families Group Committee, Colin Smith, said Mr Monk had made himself available from 6am to 10pm, seven days a week, to families, media and various other organisations offering to work with the families.
When he went on holiday recently for 10 days, Mr Monk said he slept like he hadn't in years.
"I didn't realise how friggin' knackered I was. I broke down quite a few times ... because I was thinking about my interest for once, instead of worrying about other people's."
He is not a public speaker by nature, but his down-to-earth style has made him a refreshing face of the disaster in the media.
"Everything is off the cuff. I just say it how it is - and it comes from the heart."
Grey District Mayor Tony Kokshoorn said: "What you see is what you get with Bernie. He shoots from the hip."
Mr Monk sees himself staying in his role as long as it takes to get the men's remains out of the mine.
"I can see it's going to be a long journey, and I owe it to the families now who have supported me too."