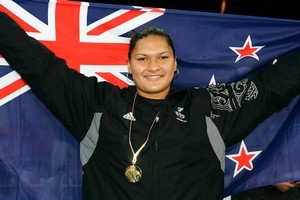 Valerie Adams didn't have a great 2010, though it was still good enough for Sportswoman of the Year at the Halberg Awards.
The split from long-time coach and mentor Kirsten Hellier was still raw, she was battling to get on the same page as new coach Didier Poppe, had separated from husband Bertrand Vili and faced a challenge from a reinvigorated Nadzeya Ostapchuk.
"Like any athlete I'm going to have a down period, that's what change is all about," the shot putter noted with some prescience at the time.
The Belarusian beat Adams during most of their big meetings last year, but towards the end of the season, at a meeting in Split, Croatia, Adams threw 20.86m to win. It was still 21cm below her personal best, but it was a confidence-boosting result.
It indicated the changes she was making to her technique - to make her more explosive across the circle - were starting to have a positive effect.
There was more turbulence to follow, however. Success in Split had come after Adams had spent some time working with three-time world champion Werner Gunthor and Jean-Pierre Egger in Switzerland. In November Adams left Poppe to work on a formal basis with Egger.
That meant relocating to the Swiss Federal Sports Academy, which is based in the tiny town of Macolin.
There she lived a fairly Spartan existence, but if leaving the comfort of home was a wrench, it had nothing but a promising effect on her performance.
At the world championships in Daegu, Korea, in August, Adams threw a personal best 21.24m, smashing her PB by 17cm.
She entered five Diamond League meetings, the blue riband athletics events of Europe, and won them all. At Bislet, she threw 20.26m; at Paris, 20.78m. In Stockholm she won with 20.57m, while in London she needed just 20.07m to win. Her Diamond League season was capped off with a winning throw of 20.51m in Zurich.
She totalled 24 points, eight more than Ostapchuk, who entered one more event. While 2010 was a year of transition, 2011 was a year of utter dominance that makes her close to an unbackable favourite for London.
Her year was recognised by the athletics governing body, the IAAF, who shortlisted her for female athlete of the year, where she finished second to Australian hurdler Sally Pearson. Last week, she was shortlisted for the prestigious Laureus world sportswoman of the year.
Sportsperson of the Year Finalist: Andrea Hewitt
Sportsperson of the Year Finalist: Mark Todd
Sporting Achievement of the Year Finalist: The Crusaders
Sporting Achievement of the Year Finalist: The Breakers