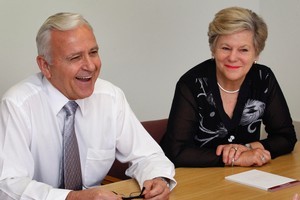 We celebrate those who have led the way through a tough 12 months as we count down to naming the Business Leader of the Year in the Weekend Herald.
Anne and David Norman were prepared to go where nobody else dared this year.
In buying the failed Whitcoulls and Borders chain they increased their exposure to the struggling bricks and mortar retail sector and a book trade under attack from e-reading.
While the purchase price was not disclosed, it is likely to be a fraction of the debt they inherited. The Normans effectively saved the landmark New Zealand business which can trace its roots to 1882 and the jobs of 900 staff.
They even honoured all unexpired gift cards and vouchers at full face value, which was in doubt following the failure of the chain's previous owners, private equity-owned REDgroup.
For the Normans it was an expansion of an already extensive retail empire.
Through their James Pascoe Group the media-shy couple operate Pascoes, Farmers, Stewart Dawsons, Goldmark, Stevens, Prouds and Angus & Coote and employ more than 9000 staff in New Zealand and Australia.
The company is larger than the Warehouse, and at least four times as big as Michael Hill International.
They revived the Farmers brand after buying it from Australia's Foodland Associated for $123 million in 2003.
David Norman began his career working for supermarket pioneers Tom Ah Chee and Norman Kent at Foodtown Kelston. He has said he and his wife do not take profits out of their companies. "We don't. We just let them grow." Anne Norman is the granddaughter of James Pascoe, who opened his first jewellery store in Ponsonby three years before hardware salesman Robert Laidlaw launched the mail order business that became Farmers.
Anne Norman said after buying Whitcoulls the couple had gone into the deal with their eyes wide open.
"We haven't gone into this with blinkers on about e-books. We are well aware of where they are going and what's needed to be done," she said.
"You see opportunities like Whitcoulls and how can you not do it?"
Kevin Chapman, president of the New Zealand Book Publishers Association and managing director of Hachette NZ, said the industry had welcomed the Normans at the time and that goodwill remained. He said yesterday they were a "massive improvement" on the previous owners.