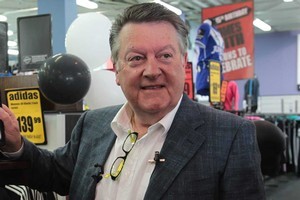 In a tough trade, Rod Duke is known as Mr Retail and this year showed why.
Duke's Briscoe Group has been one of the few retailers to shine this year, helped by his standing up to adidas over the price of All Blacks jerseys through his Rebel Sport chain.
His response, publicly criticising the sportswear giant and dropping the price of the jerseys, won him fans and sent sales up by 27 per cent on the same time last year.
"If it happened again I would probably do exactly the same thing again. I got thousands of emails, letters, telephone calls and faxes from all over the country and around the world praising us for our stance," he said yesterday.
"It didn't seem to be fair if they made a cock-up and sold it [the jersey] to websites in Britain and the United States at half the price that they were down here."
Duke said his dominant position in the sports gear market had forced adidas to "move on" from the row that blew up before the Rugby World Cup.
While he didn't make much money on jersey sales, it was important to "make peace" with customers. It was a good example of Duke's instincts being in tune with his market in middle New Zealand. Likewise his early signing last year of Sonny Bill Williams to front ads before the SBW phenomenon took off, and his loyalty to the "Briscoes lady" Tammy Wells - now in her 22nd year as the face of the stores.
The company expects higher profits than last year after a "sensational" performance from Rebel Sports during the third quarter and growth across the group.
Duke, 61, came to New Zealand from Australia in 1988 to turn around the struggling Briscoe chain but ended up owning it and making a fortune. He still holds about 75 per cent of the $300 million company, which he runs from modest offices in Auckland's Morningside.