This week we celebrate those who are leading the way through the tough times as we count down to naming the New Zealand Herald Business Leader of the Year. The winner will appear in the Weekend Herald on Saturday.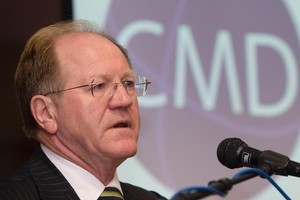 It's been an eventful year for investment banker Rob Cameron.
Cameron, who has more than 20 years' experience in the industry and heads Cameron Partners - the firm he founded in 1995 - had his efforts as chairman of the Capital Markets Development Taskforce vindicated early this year.
The taskforce made 60 recommendations to the Government at the end of last year and has received a very favourable response.
In February Commerce Minister Simon Power said the Government would pick up on most of the suggestions and later announced a big push to form a super regulator to help restore investor confidence.
The only area where Cameron has expressed disappointment is in the Government's decision not to follow through with partial listings of state-owned enterprises.
But it could be a case of watch-this-space with National sticking by its pledge not to change SOEs until its second term.
Cameron was also recognised this year when the Institute of Finance Professionals New Zealand made him a lifelong fellow.
At the time Cameron said he was "deeply honoured" by the award. He said the fellowship was recognition from the industry body of his contribution to New Zealand's financial and capital markets.
But he has also faced a tough challenge in his personal life after being diagnosed with stage four lung cancer in October.
Cameron, who has set up a blog to talk openly about the treatment process, went to a doctor with concerns over an ongoing sore wrist after a fall and found he had cancer.
He is remaining positive and says one reason for the blog is to "quash rumours" that his illness has taken him out of the investment banking game.
Cameron has been involved in many of New Zealand's high-profile transactions including advising the directors of Carter Holt Harvey on its takeover by Rank Group and the restructuring and recapitalisation of Air New Zealand.
We would like to hear from you. Who do you think is a worthy Business Leader of the Year for 2010? Email us at business@nzherald.co.nz