National Short Range Forecast
7:10 PM August 22, 2014
Northland to North Taranaki, including Taumarunui, Taupo, Bay of Plenty and Coromandel
Fine weather.
South Taranaki to Kapiti, including Taihape
Cloudy periods, with patchy drizzle clearing tomorrow morning.
Gisborne to Wairarapa and Wellington
Mostly cloudy, with a few showers.
Nelson, Buller, Westland and Fiordland
Fine, apart from cloudy periods about Nelson City morning and night.
Marlborough and Canterbury
Mostly cloudy, with patchy drizzle north of Ashburton. Some long fine spells in South Canterbury tomorrow afternoon.
Otago and Southland
Mostly cloudy about the coast, with isolated showers clearing tomorrow afternoon. Fine inland, apart from areas of fog morning and evening.
Chatham Islands
Occasional showers and strong cold southerlies.
National Long Range Forecast
1:54 PM August 22, 2014
Sunday
North Island, occasional showers in the east and about Wellington and fine elsewhere. South Island, often cloudy in the south and east and fine elsewhere.
Monday Tuesday
North Island, mainly fine, but a few showers still likely about Gisborne and Hawkes Bay. South Island, cloudy areas, mainly in the south and east.
Chatham Islands
Often cloudy with a few showers. Strong southwesterlies, easing on Monday.
Moon Phases
Aug 18
Last Quarter
Aug 26
New Moon
Sep 02
First Quarter
Sep 09
Full Moon
Isobaric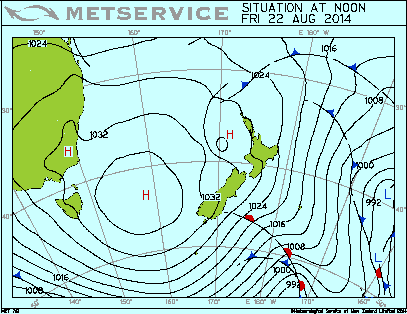 August 22, 2014
Satellite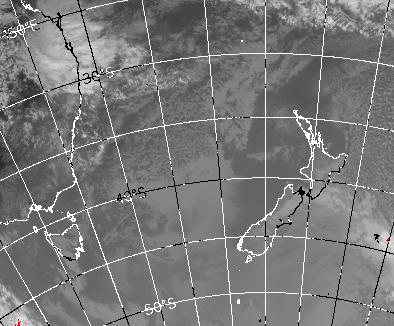 August 22, 2014
For more detailed weather information visit