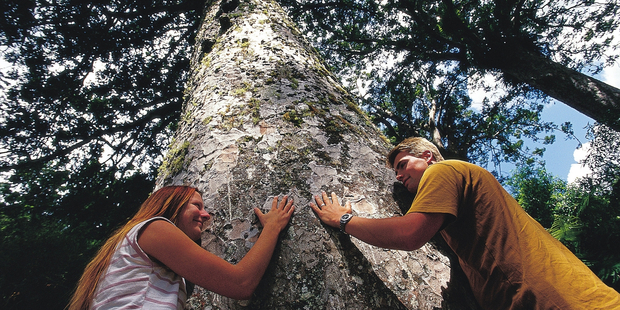 1. Horseriding near Colville Village

Spend a sunny afternoon - or several days - horse trekking at White Star sheep station near Colville. Host Belinda and her daughter are the sixth generation of family on this land. For longer stays there are bush lodges, cabins a backpackers or caravans. Ten minutes up the road is the charming red general store, hall and school.
2. Long Bay beach, walk, camping grounds
Head out from Coromandel Town, past the fingers of wharf, up around the hilly bays of Wyuna Bay where Omaha-style mansions are cheek-by-jowl with quaint cottages. At the end of the road is Long Bay Motor Camp - old-timey with boat ramp, fishing charters and kayak hire, plenty of rock fishing spots and a line-up of cabins and caravans. Take a walk in one of the few remaining bits of kauri bush (the oldest is about 330 years old, the rest mere saplings of 100 or so), or the 15-minute walk along the beach to pretty Tucks Bay (back-to-basic camp there too).
This is how we all used to holiday.
Guide Sharni, who also drives the ferry bus and runs a native nursery, walks you through one of the few surviving stands of kauri, miraculously left on the Coromandel after the hills were cleared. Stop in at the Waiau falls, try to imagine how magnificent the bush would have been before settlers did their damage. Take a run across to Hot Water Beach - blissfully empty in winter.
4. Watergardens built with love
Rapaura Watergardens are worth the hair-raising (to city folks) gravel road off the Thames Coast Rd (between Tapu and Coroglen). A garden of distinction, carved out of scrub, Rapaura features gorgeous ponds, flag paths, bridges, bush walks and sculpture. Native plants blend happily with exotic azaleas, rhododendrons and camellias, and there's a beautiful bushwalk to a waterfall, and a cafe in the summer.
5. Vintage Thames
It's too easy to whizz through this small town en route to the beaches and fishing. But linger around the back streets to discover wonderful old buildings, relics of the town's booming industrial past. Photographers love the mix of worn iron and brick, faded weatherboard and old signs. If you're lucky, the junk shops still yield treasures and bargains. Stop at The Depot at the north end of town for terrific fresh food and coffee from Cafe Melbourne, and poke through the rest of the artisan shops in this refurbished concrete bus depot.