Frolic at Paekakariki for a perfect holiday, writes Elisabeth Easther.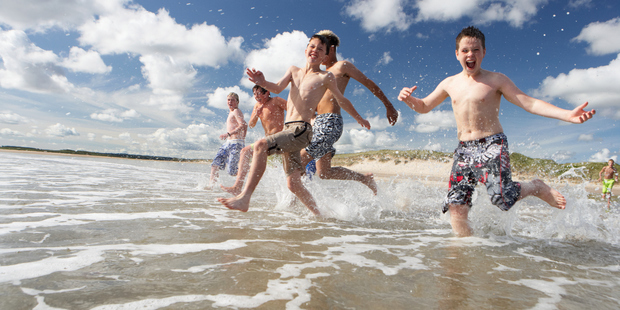 Paekakariki has stolen my heart. A darling seaside settlement of mostly unspoiled beaches, this endearing enclave clings for dear life to the windswept Kapiti Coast.
A mere 45km northeast of Wellington, Paekakariki is Maori for "perching place of the green parrot" and is paradise for people with a penchant for driftwood - a veritable forest has been washed up on to the beach in huge drifts, the vast mounds washed smooth by the foaming tides.
Kapiti Island, former home to the fearsome chief Te Rauparaha, looms a few kilometres off shore, and is now a nature reserve that can be visited only with a permit from DoC.
We met a family on the beach who'd just spent a night at the lodge at the northern end. They'd not only seen kiwi up close, one bird had even run over their feet. Back on the mainland, you'll also find museums, amazing walks, good cafes and a beach buzzing with vitality.
Having decided it was time for a more southerly school holiday, the mothers picked Paekakariki because we wanted to avoid crowds and swim in a lively ocean (it was still warm enough) and we hankered for an old-fashioned beach holiday, a trip back in time.
There was no shortage of places to stay, and we considered everything from the cheerful camping ground to high-end holiday homes. After a great deal of research, we fixed on
"Kapiti Cottage" (via bookabach) with two double bedrooms, a bunkroom and space for a tent if we fancied.
The property, aside from being scrupulously clean, was the perfect mix of old-school bach with elegant comfort and style. From the sweeping sea views (two minutes' walk to the surf club), the well-appointed kitchen (we like our mod-cons), to the claw-footed bath, we couldn't have been happier.
Our days quickly found a routine. Mornings were for tennis: the local courts on the grounds of the quaint cottage library are open to the public for free on Mondays, Tuesdays, Thursdays and Fridays. The other days of the week are for members only. With membership being only $35 a year, joining makes sense even if you're only there for a short time.
After that we'd have our first swim of the day and, whether the waves were dumping or rolling, it never felt crowded in the water or on the beach. And if you chart your tides right, there's good pipi picking to be had.
The village's charms include two very good cafes, a dairy (with rainy-day DVD hire) and a shop that sells, among other things, fruit.
But our favourite was the lofty artists' studio where Dianna Fary and Alan Wehipeihana create and sell their wares. The meandering upper level of the shop houses an amazing collection of one-off standard lamps, decoupage furniture and delicately decorated shells. Alan's transformation of Readers' Digest book spines into things of beauty were terrifically appealing.
The afternoons, when it got too hot, were spent beside the stream that skirts the campground, in the epic Queen Elizabeth Park.
Several times we set up camp on its banks, so the kids could frolic in the stream or ride their bikes along the grassy trails. The area hosted a huge population of American soldiers during World War II and the 2km Yankee Trail is fabulous fun for two wheels or two legs, the Marine Memorial a sombre reminder of past platoons.
Other great things about Paekak: the houses are thrilling, the perching architecture makes you wonder how the older homes have stayed put. Tremendous trees, many of them bowed down, bent almost double, are a testament to the fierce winds that blow through these parts.
There's the sweet little Paekakariki Station Museum, for rail and military history, and the Southward Car Museum if you're fond of things with wheels - at $13 for adults and $3 for kids it's not cheap, but it's worth it if vehicles are your thing.
Further afield in Paraparaumu there's everything a person might need, whatever you run out of it's there. The roadside stall selling tree-ripened fruit has spoiled me for the stuff we get in Auckland, and Kapiti Cakes and Bakery will always have a place in my heart, (and on my hips).
We were lured inside by the plaque in the window; they were second in the 2012 New Zealand Baking Industry Bakery of the Year competition. When asked if we wanted a 10-trip pie loyalty card, it hardly seemed worth it, then we thought what the heck. Between our party of five, we had 10 pies over a week, one of which was half price and the 10th was free. I'm not sure why this was so exciting, it just was.
The only fly in the holiday's ointment was the night of our farewell dinner at the fabled Fisherman's Table - never have we suffered through a more miserable meal. We knew this Paekakariki institution would be cheap and cheerful, the salad boat a bit of a joke, but the deep-fried horrors that awaited us, the rooms full of awful furnishings straight from a struggling 1980s motel with a nautical theme, the curtains closed to the sea views, it was all staggeringly bad.
The kids' menu included jokes about pirates, some of them genuinely funny (Q. What does a pirate use to blow his nose? A. An anchor-chief.) Tane's burger was simply a sad little bun, a pathetic patty, fries and a ring of pineapple, and my pork loin was a crumbed, deep-fried abomination.
But you can't win 'em all and, aside from that culinary catastrophe (which was so bad as to be comical) Paekakariki is perfect.
CHECKLIST
Getting there: Paekakariki is a short drive north of Wellington.