Catherine Smith spends a refreshing weekend walking the coastal routes around Langs Beach.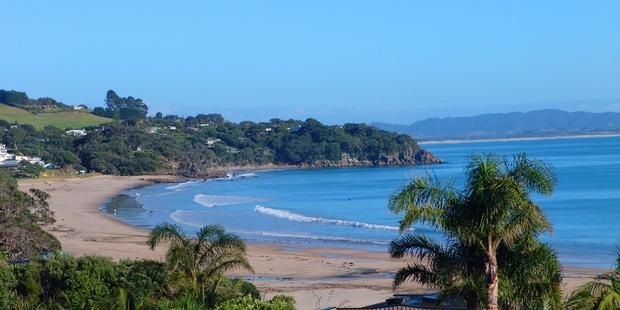 We'd spent the winter on the couch, immersed in watching Living channel programmes of Brits escaping to the country, hosting other Brits at their country B&Bs or marvelling at the splendours of "abroad".
"Huh", we'd snort.
"Our beaches are lovelier than that. We've got proper sand. And no crowds of people."
"Ew, how tasteless," we'd shout at the telly.
"I couldn't stay in a place like that. Call that scenic, that teeny patch of woods. Our bush is so much more interesting."
Clearly it was time the husband and I got out more. Perhaps even with other people, instead of just the two of us. So the call from Natalie Spyksma from Catered Coastal Walks at Langs Beach was just the prod we needed to put away the chocolates, call up some friends to dust off the hiking boots and head back up to her lodge.
We'd stayed with her and husband Jac a few years ago, but it had been in late winter so we'd missed several chunks of the best walks because the ground was too wet - making it either puggy and laborious to trudge through, or slippery and dangerous near the cliffs.
We had still managed to eat and eat and eat, to make up for it.
It didn't take much persuading to dragoon the friends. Even if we may have slightly understated the vigour of the walks, we couldn't over-sell the goodness of Jac's cooking or the prettiness of the setting.
Walking in early summer meant we reached the property in daylight after driving up from work: such countryside deserves the movie-quality effects of late evening light. It was warm enough to sit outside, admiring the light over the coves below. My sense of geography being as bad as it is, I had to be reminded that yes, that was Bream Bay and the Whangarei Heads around the curve that we could see from our living rooms. Having Google Earth to refer to on the smart phone is a satisfying way to get one's bearings, much as I hate technology intruding on down time.
As well as knowing the area's geography, plant and bird life like the back of their hands, Natalie and Jac have become pretty good at knowing their guests' habits too. Natalie reckons most people arrive on a Friday night, cranky, strung out from the working week and barely able to talk. By Sunday morning everyone is relaxed and expansive and happy. So she wisely times her walk briefings until after we have all breakfasted the next morning (I can't resist boiled eggs from the resident chooks clucking away below our rooms) and built ourselves a stupendous packed lunch of home-made bread, baking and salad things from the gardens.
After this odd winter the ground is dry, so on our first day we are happy that we can press on to do the full day's walk. In spring the guided bush walk is through to a grove of spectacular kowhai. But by summer they are finished, so we press on out to Bald Bluff. It was steep enough to put this acrophobic off, but every other hiker happily skipped along the path while I anticipated their inevitable plunge to a horrible death. Tragedy didn't happen, so we pushed on through to Langs Beach and on to the Waipu coastal walkway (last time it was too slippery).
As we came around the rocks to Langs Beach, we were tempted to stay put and wait for the harvests of the lads heading out for a scuba dive, but instead we ambled along Langs Beach playing "spot the mistake" at some of the over-the-top architecture starting to pop up among the mostly tasteful buildings on this up-scale subdivision.
Puttering through the Waipu coastal walkway was fun - locals have built the track around beaches and coves, past interesting baches, with plenty of places to pause and admire the views. Folksy rope handles and odd ladders to help you over the tricky bits are built in a style that suggest the trailmakers may not have been much troubled by resource consents or council inspectors.
Even on a non-holiday weekend, Waipu Cove beach was busy with picnickers, sand-castle builders and surfers. We decided to hang out and examine the well-painted murals on the public loos (Kawakawa's Hundertwasser masterpieces have kicked off a great small-town trend) and head across the road to the trendily refurbished Cove Cafe - all vintage trims, nautical finds and good coffee. I imagine this summer it just went off. We were too lazy to walk the hour or so to the river mouth end of the beach (with rare nesting fairy terns and dotterels), preferring to call for a ride home and a quiet ale or two. We knew we had a dinner to work ourselves up to, and, again, Jac did not disappoint.
Day two we were determined to show our friends the breathtaking DoC walk along the Mangawhai Heads cliff-top walk. Better still was the hike through the farms and bits of bush to get there. I confess we got a bit sick of stopping to take one more photo of one more spectacular angle of the beach below, but I don't think I will ever tire of the nikau groves that dot the path (and the steps back up from beach to cliff, if you choose to do the loop). Again we were astounded at some of the monster houses being built below the walk (the hundred-something steps down to the beach gave us a chance to get a good look), and indeed met locals grumbling about how close to the shore development has crept. But if I could live right there next to the beach, I certainly would, too.
Natalie was right: by Sunday evening we were tired in a good, sun-filled physical way, replete with good food, a good rest and good company, ready to face the world. This is way better than the telly.
NEED TO KNOW
Walking season runs from September 1 until the end of April.
Two or three-day walks for all levels of fitness, guided or unguided, fully catered (from $359 per person for two days, including transfers and all meals).
Catherine Smith was a guest of Catered Coastal Walks.