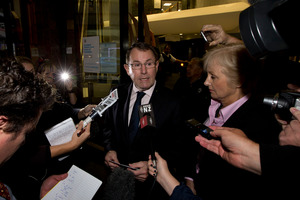 Act leader John Banks is to file an urgent application to the courts this week in a bid to overturn the District Court's decision to send him to trial over his donations disclosure from the 2010 Mayoral elections.
Mr Banks confirmed today that his legal team will this week seek an urgent judicial review in the High Court of the decision to send him to trial over donations from Kim Dotcom and SkyCity which were declared as anonymous in his donation return.
"The grounds for that is that simply there are a myriad of factual inaccuracies in the judgment and also, we believe, the legal decisions are flawed."
Mr Banks said the justice system was taking too long and he should not have to wait until December for a trial date to be set, which could be well into the next year - an election year. He said he was not criticising the judge who made the decision to send him to trial.
"I respect the process, and I'm not above the law. But what I need is a fair trial." He said he could not get that fair trial in Parliament or among the public.
"If I can get the facts in front of a Hgh Court judge then we believe I will have victory in this because I have done nothing wrong."
Asked why he did not simply defend it at a trial if he had "nothing to fear and nothing to hide" he said he had already been to the court 10 times.
"We thought this would be well and truly over by now. We want to go to court urgently. We are not fearful, but we believe justice is best served swiftly and waiting until December 17 for a callover for a trial somewhere next year is not an option for me. I think I have taken enough and I believe I have the right to be heard in front of a judge. We want it done urgently, and the best way forward is in the High Court later this week."
He said he would never knowingly sign a false election return "and I will be exonerated. Why? Because I have done nothing wrong."
Wellington man Graham McCready, who brought the private prosecution against Banks, said if the ACT leader disagreed with the evidence put forward he should argue his case during the trial.
"The case law is that on being committed to trial, if you disagree with the evidence, you stand trial and if you're convicted then you can file an appeal.''
He said a judicial review would be unlikely to prevent the case going ahead.
"The courts will not disrupt a trial for some spurious, vexatious process by the defendant.''
Mr McCready has requested that Crown Law take over prosecution of the case. The Solicitor-General is considering the matter.