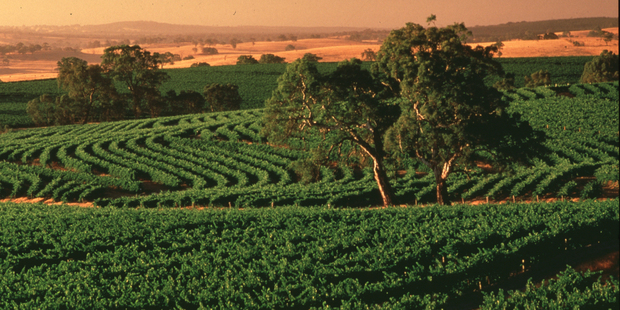 For many years, Australia's McGuigan Wines have been on New Zealand shelves as entry-level and popular premium wines. Well priced, well made and well respected. Now, as chief winemaker Neil McGuigan says, it's time to step up while retaining the core business of easily affordable wines.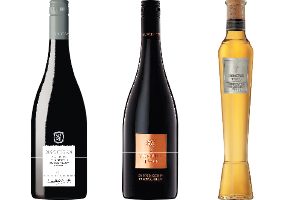 2010 McGuigan Shortlist Shiraz - $35
A Barossa Valley beauty. Not a heavy, in-your-face steamroller, this is made in a more approachable, lighter style. It is gentle and sweet with finely grained tannins and would be perfect with lamb. In keeping with McGuigan Wines' philosophy to deliver innovative quality wine to as wide an audience as possible, this wine demonstrates perfectly that it's working.
2010 Tempus Two Copper Tempranillo - $25
Tempranillo is the classic Spanish grape that delivers vibrant youthful mulberry fruits and exotic spices with a sweet moreish finish. Ageing in French and American oak adds complexity and creates a rich, medium-bodied wine that shows some restraint thanks to the cooler grape growing climate of the Adelaide Hills.
This wine is where modern style and classic finesse merge.
2009 Tempus Two Pewter Botrytis Semillon - $27
Worth buying if only for the shape of the unusual 250ml bottle, perfect for refilling with wine vinegar or olive oil when the wine is finished. Full of sharp, citrus flavours with splashes of dried apricot, marmalade and wild honey, this dessert wine has elegance, poise and style, with 10.5 per cent alcohol. Drinking now but it will develop over the next decade.


Barossa - a feast for the senses
The picturesque rolling hills of the Barossa overlook a colourful patchwork of vineyards and picture-book villages, dotted with historic churches, stone buildings, luxury accommodation and quaint vineyard cottages beckoning visitors to explore.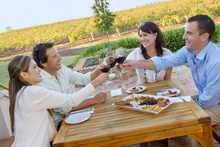 Hentley Farm Wines
The highlight of any trip to the Barossa is lunch at Hentley Farm Restaurant & Cellar Door. Dine in the property's intimate and elegantly restored stables set amongst the vines, or relax in front of the roaring fire!
Barossa Gourmet Weekend
Held annually each August over 20 wineries generously showcase their finest wines paired with heart-warming food and fantastic live entertainment.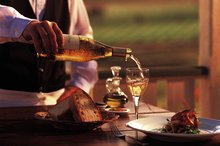 • Casa Carboni Cooking Class
Casa Carboni is an Italian Cooking School and Enoteca (wine and food shop) in the beautiful town of Angaston. Take up a short cooking class that highlights the Barossa's incredible farmgate produce.
Barossa Farmers Market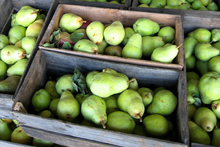 Every Saturday morning from 7.30am to 11.30am, you can taste the best the Barossa has to offer. Over 50 stallholders provide a cornucopia of the freshest vegetables, meats, breads and cheeses. Delicious oils, preserves and local specialties give you everything you need for your houseboat holiday.
Cycle the Barossa Bike Trail
With several bike trails around the Barossa, including the new Barossa Bike Trail, why not hire a bike and weave your way from winery to winery, stopping to taste the produce of local cheese makers, olive growers and bakers along the way.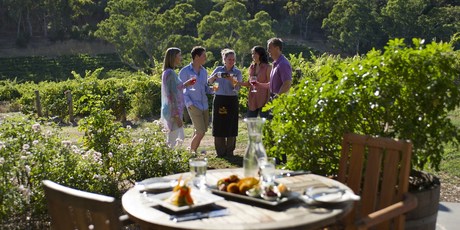 Clare Valley
Just 90 minutes north of Adelaide, the Clare Valley is a hidden gem of historic villages and wineries in a picturesque valley famed for its wine and pioneering heritage.
Considered the home of Australian Riesling, you'll find there's much more on offer as you ride your bike along the Riesling Trail or explore historic towns like Burra.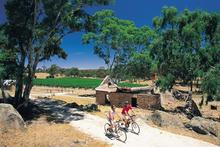 • Cycle the Riesling Trail
Hire a bike and cycle the scenic Riesling Trail that links local towns, passing restaurants, cafes and cellar doors. Cycle it in under three hours or complete it in stages. Three loop trails return you to your starting point, without having to backtrack.
Skillogalee Winery
Skillogalee is a boutique winery and restaurant with a reputation for exceptional wine and food. You can enjoy their handcrafted wines on the veranda when the weather is good, or by a roaring log fire in winter. Beautiful gardens surround the restaurant and cellar door.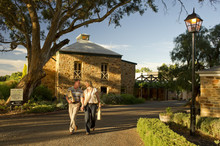 • Clare Valley Gourmet Weekend
At the annual Clare Valley Gourmet Weekend held each year in May, local wineries open their doors to the public and offer tastings of their wines accompanied by gourmet food and entertainment.
Historic Sevenhill Cellars
Established by the Jesuits in 1851, Sevenhill Cellars is the oldest existing winery in the Clare Valley. Guided tours take place at 2pm on Tuesdays and Thursdays. Alternatively pick up a map from the cellar door and explore on your own.
Martindale Hall
Make sure you visit the museum at Martindale Hall. Built in 1879, this Georgian style mansion is classified by the National and State Heritage Branch and the National Trust. Stay overnight in this living museum, surrounded by nineteenth century art, furniture and hunting relics.
IF YOU GO
Fly there with Air New Zealand.
Explore more at: myaustraliapassion.co.nz.