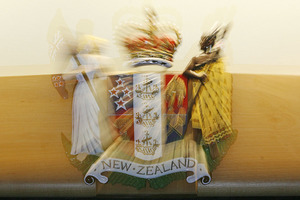 A man today admitted the murder of a Christchurch woman, but his identity - and hers - will not be revealed until sentencing. Photo / NZ Herald
A 29-year-old farmhand who today admitted murdering a Christchurch woman could have his identity protected even after he is sentenced next month, a legal expert says.
A sweeping suppression order has covered the killer's identity and that of his female victim since he was arrested for the murder in July.
It was expected to be eased today when the case called at Christchurch District Court.
The woman's family packed into court to hear the murder charge being put to the Kaiapoi man who stood in the dock wearing an open neck shirt, with hands in his pockets.
"Guilty," he replied softly.
The family members sobbed and hugged each other when the charge was admitted.
Defence counsel Tony Greig asked Judge Tony Couch to continue the suppression order, which was instigated by police, until sentencing.
He said it was designed to protect the woman's 3-year-old daughter.
Police prosecutor Sergeant Anna Lloyd did not oppose the move and no summary of facts was read out.
It is understood the woman was fatally assaulted with a knife at a property in Burwood about 10.15am on July 11.
The man was charged with murder later that day and has been in custody ever since.
Judge Couch said he was reluctant to discuss the suppression in open court, given it could reveal potentially sensitive issues.
So, he agreed for the suppression to continue at least until sentencing next month and remanded the man in custody.
Outside court, families on both sides refused to speak to media.
Auckland University law professor Warren Brookbanks said it wasn't unusual for a killer's identity to be suppressed when a young victim was involved.
"It wouldn't normally have continued this long, and had it not been for a young victim involved whose identity needs to be protected, then almost certainly the name suppression would've been lifted by now," he said.
"But in this case, as long as that child is dependent, the courts would be at pains to preserve their identity and therefore the only way of doing that is ensuring his name is not revealed."
The court had a responsibility is to protect any innocent victims from any "unnecessary exposure" that could result in stress or distress for them, he said.
And while the killer's identity would likely become public eventually - on a blog or social media - the court would do what it could to protect an innocent victim.
Mr Brookbanks warned that the suppression could even continue after the man is sentenced next month.
"I think it'll continue, it's not uncommon," he said.
"His name would just be initialled in the reported case and the court would make it very clear there's a suppression order in effect."
- APNZ