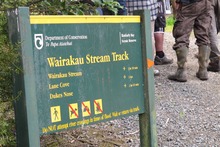 A murder-accused was told he was so forensically aware, he had trimmed his nails, clipped his hair short and burned blood-splattered clothing so he did not leave any evidence that linked him to the death of Jack Davis.
Wayne Bracken, 35, and Neville Joseph Dangen, 24, have been charged with kidnapping and murdering the Auckland father on February 25, 2011.
Mr Davis, 30, was killed with what police believe was a thistle grubber and his body was found off the Wairakau walking track, on the northern side of the Whangaroa Harbour.
Previously in an opening address, lawyer Jonathan Krebs said there was no forensic evidence linking Bracken to the scene where Mr Davis was discovered down a bush-clad bank.
Yesterday as the trial entered its seventh week, lawyer Mike Dodds, representing Dangen, told Bracken he was "pretty on to it around forensics" as he had destroyed blood splattered items including redband gumboots and cleaned out a vehicle used to transport Mr Davis to the remote walking track. To that Bracken said: "I don't know what you are talking about Mr Dodds."
Mr Dodds put it to Bracken he had deliberately chewed or cut his finger nails so short on the day Mr Davis was killed so there would be no DNA evidence linking him to the murder.
"Sorry you are wrong," Bracken said. "I didn't murder Jack Davis at all, mate."
Mr Dodds said Bracken had shaved his hair short for the same reason. Mr Bracken said he had clipped his hair three days earlier.
Mr Dodds said Bracken had gone to his sister's house and taken a long shower to ensure there wasn't a "skerrick of blood" on him. But Bracken said he was having a good clean-up as he was heading to Auckland to see some girls in a strip bar and didn't want to smell of body odour.
When asked who he thought had killed Mr Davis, Bracken responded: "To tell you the honest truth I can't say anyone because I wasn't there."
Crown Prosecutor Mike Smith also began his cross examination and told Bracken when he prefaced his answers with, "This is the honest truth", it was a signpost he was telling a lie.
"It's a preface for story time," Mr Smith said.